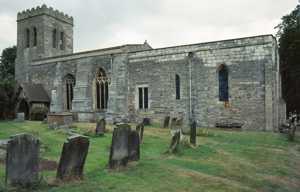 Laneham
St Peter ad Vincula
Newark Archdeaconry
Bassetlaw and Bawtry Deanery
Introduction
Although a church is mentioned at Laneham in Domesday Book the present church appears to be largely 12th Century Norman. The north aisle was added early in the 13th century. Diagonal buttresses and battlements were added to the tower in the 15th century. Most of the windows are 14th century. The church was restored c1890.
A feature of the church is that it is essentially Norman, which is not a frequent occurrence in Nottinghamshire. Norman herringbone masonry can be seen on the south side of the nave and in the chancel. Roman tiles can be seen in the walls, there is a Norman door, archway, font and chancel arch, beautifully flowing Early English arches, fragments of medieval stained glass of the 16th century, benches, a Jacobean pulpit, Victorian stained glass, a 20th century porch, and a clock to commemorate the start of the 21st century.
The church was for centuries the centre of the community, with Christianity being practised on the current site for over 1000 years. There are wedding cheeses in the bell tower, recording joyful occasions. The church is also notable for its Markham memorial.
It is one of the seven parishes in the county which lay in the Peculiar of the Dean and Chapter of York.
Particular thanks to George Scrini for research on this entry