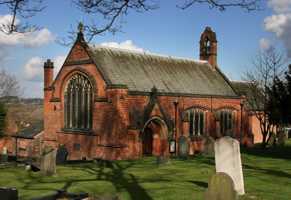 Awsworth
St Peter
Nottingham Archdeaconry
Nottingham North Deanery
Introduction
The original chapel was built around 1746 by Richard Smedley, a mining magnate from Risley, on land given by the Earl of Stamford. It was 'a plain, low, oblong, brick chapel with a tiled roof, and a small wooden cupola with one bell', according to Stretton writing in 1819. By 1890 it had a school room to the rear.
Around 1890 the Rev Vincent Higgins wanted a replacement church which would be larger to serve a population expanding with the opening of collieries and chemical works. As a result, the church, apart from the chancel, was rebuilt in 1902-3 by Naylor & Sale of Derby, although a projected north-west tower was never constructed. The church was rebuilt in brick with stone dressings, a style more often found in nonconformist chapels than Anglican churches. In 1902 the Bishop of Southwell consecrated the new nave which utilised most of the old church as a temporary chancel. It also incorporated the old school room in the nave as a vestry.
There are some fine wood carvings on the choir stalls and pulpit which were made by Mr Henry Thornhill a local carpenter and undertaker, paid for by Miss Frideswide Worthington.
In a mining area, it was affected by subsidence it had timber shoring from 1902 to 1957. In 1957 the 'old' chancel was demolished and a new one built which included an organ chamber. The builders were Alcock & Sissons of Langley Mill.
The west turret had one bell, and this was replaced on the new east turret, completed in time to toll the bell on the death of King Edward VII in 1910. There is still a Gothic style window to the east of the building.
The church was a chapelry of Nuthall, and in the mid-19th century had just an afternoon service with an average attendance of 60.
With thanks to Timothy Southall and Andy Nicholson for research on this entry
and to Geoff Buxton for photographs.