Awsworth St Peter
War Memorial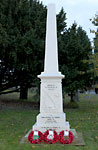 The war memorial is in the churchyard and is in the shape of a cross with the names recorded on all four faces of the base. It was unveiled in 1920 by Lieutenant-Colonel Terry, the son of a former vicar of Awsworth.
The inscription on the east face of the monument reads:
ERECTED BY
THE PARISHIONERS OF
AWSWORTH
IN
PROUD, GRATEFUL, AND HONOURED
MEMORY OF
AWSWORTH MEN,
WHO GAVE THEIR LIVES
FOR GOD, KING, AND COUNTRY IN
THE GREAT WAR,
1914-1919
Their name liveth for evermore
Names listed on the north face:
1915
PTE GEORGE ALBERT SMITH
PTE NEVILLE BELL BRADFORD
PTE JAMES WILLIAM WEEDON
PTE CYRIL (SIDNEY) HARRISON
PTE JOSEPH WILLIAM AULT
PTE LEWIS PARRY
LCE CORP ALLEN BIRCUMSHAW
PTE HARRY WATSON
PTE SAMUEL AUSTIN HORSFIELD
WORLD WAR 1939 – 1945
G

NNR

STEPHEN J. W. FOWKES

PTE ERIC SIMMS

GNNR ARTHUR INCE

PTE THOMAS H. WILLIS

DVR CYRIL KNIGHTON

PTE LAURENCE BARLOW

JOHN E. COCKERILL M.N.

HERBERT GEORGE M.N.

K. F. HUTSON R.A.F.
Names listed on the west face:
1916
PTE HENRY PARRY
LCE CORP HERBERT COE
PTE CHARLES GEORGE CLARKE
PTE CHARLES BEEBY
PTE HUGH RICHARD DAVIES
1917
BOMDR HAROLD BETTS PLOWRIGHT
PTE EDGAR DALE
SERGT FRANK MORTON BOOT
PTE JOHN ROBERT WATKIN
PTE THOMAS ALFRED GIRLING HUNT
PTE LEONARD GRAVES
LCE CORP PERCY GAMBLE
Names listed on the south face:
1918
LCE CORP ALBERT LEDGER
PTE GEORGE WINFIELD
GUNNER HORACE POXON
DVR JOHN FREDERICK BEEBY
PTE RICHARD HORACE INGER
PTE ALFRED SHERWOOD
PTE THOMAS WHITTAKER
The war memorial was cleaned and restored in 2014.