Barton-in-Fabis St George
Features and Fittings
Chancel
Wooden altar rails with wrought-iron work.
Oak-topped desk lectern, said to be made using wood from the former rood loft, on a wrought-iron stand.

Glass-fronted case on the south wall containing: a Book of Music, dated 1839, signed by John Barrow (died 1888), schoolmaster; a photograph, presumed to be his son, Richard Barrow, gamekeeper; a wooden truncheon (possibly the property of the gamekeeper); a boxwood clarinet; and notes about the above made by the Revd Arnold Hill, rector from 1960 to 1964.
Nave
Restored Jacobean pulpit in the north east corner of the nave has six more modern panels, carved with flowers; one of these is dated 1901, another carries the inscription 'I AM THE ROSE OF SHARON'.

Octagonal font (a shape used widely used from the late 13th century) stands in the south aisle near the doorway and is cut out of three large blocks of stone. The bowl is lined with lead.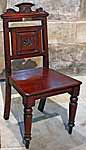 Bride's chair, possibly made of rosewood, dedicated to the memory of Ruth Sherman. A small brass plaque on the chair's back reads:
THE BRIDES CHAIR

In Loving Memory
of Ruth Sherman 1914-85
A stone tablet on the north wall of the nave records the installation of a heating system at the church:
THIS HEATING INSTALLATION IS
GIVEN BY CHARLES AND MILDRED
HINGSTON AS A THANKOFFERING
FOR THE SURVIVAL OF THEIR FOUR
CHILDREN WHO SERVED THROUGH-
OUT THE WAR 1939 – 45.
South Aisle
South Porch

South porch
The south door commemorates John St Barbe Hodgson and dates from 1927.
A small brass plaque in the porch reads:

TO THE GLORY OF GOD
AND IN BELOVED MEMORY OF
JOHN ST BARBE HODGSON. M.A. (CANTAB).
THE ELDER SON OF THE
REV. C.A. HODGSON, LATE RECTOR OF THIS PARISH.

HE WAS A RARE MUSICIAN AND HE GAVE HIS SERVICES
WHOLEHEARTEDLY TO THIS CHURCH FOR 37 YEARS.
"LET THEIR CELESTIAL CONCERTS ALL UNITE"

THIS DOOR WAS GIVEN IN 1927 BY HIS
BROTHER AND SISTERS.