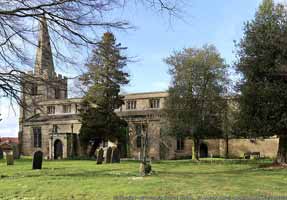 Barton-in-Fabis
St George
Nottingham Archdeaconry
West Bingham Deanery
Introduction
The present church was built in the latter part of the fourteenth century. There may have been a plan to make the nave longer than it is; the west wall is clearly a temporary construction when compared with the stone of the rest of the building.
The east window stone-work is Perpendicular in style. Other indications of the church's mediaeval origin are the sedilia in the south wall of the chancel and the nearby piscina niche. There is a mass-dial, or scratch dial, cut into the buttress near the south door of the chancel. Six clerestory windows were inserted during the reign of Henry VII. There are some fragments of mediaeval stained glass in a small window in the west wall of the tower.
Of special interest are the monuments and memorial tablets for the Sacheverells, Lords of Barton in the sixteenth and seventeenth centuries.
Particular thanks to Charles Hurt and Andy Nicholson for research on this entry
and to Geoff Buxton, Dr Chris Brooke and Andrew Abbott for the photographs