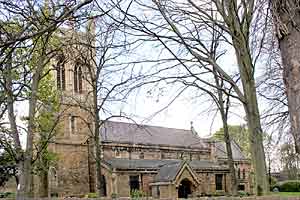 Basford
St Leodegarius
Nottingham Archdeaconry
Nottingham North Deanery
Introduction
There was a priest at Basford in 1086 so possibly a church, too. Robert de Basford or de Ashby (Northants) founded a Cistercian priory at Catesby in c1175 and endowed it partly with income from Basford church. It was one of only four in England dedicated to St Leodegarius.
Prior to 1859 there was a Norman arch between nave and a Norman tower. The church was rebuilt in c1200 with nave arcades, north and south aisles and lancet windows. About 1250 the present clustered columns of the nave arcades were inserted, probably the church's best feature. A Lady Chapel was introduced in c1340, and later that century the nave walls were raised and a clerestory added. An unusual feature, the Pax or kissing stone, now fixed in the south doorway, was in use from c1250.
Major repairs and alterations have been necessary on many occasions in the last 300 years, sometimes exacerbated by accidents or vandalism. The worst disaster was in 1859 when the tower collapsed just before the church was due to re-open after repairs. The new tower then erected is the dominant feature today, in Early English style, topped off with eight pinnacles. Other alterations in 1859-60 led to a sharply pitched roof, a new north aisle, north porch and clerestory. In 1900 the roofs had almost been renewed when a fire ruined the chancel and it had to be repaired. A vestry was added, incorporating the priest's doorway. In 1974 a vandal set fire to the organ and organ screen. Although there have been many alterations the basic style is still Early English.
Particular thanks to Terry Fry for research on this entry
and to Geoff Buxton and Dr Chris Brooke for the photographs