Bestwood Village St Mark
Cemetery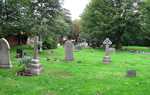 View of the Cemetery
There is no churchyard as such, but the nearby cemetery was founded around the same time as the church and has always been associated with it.
The Nottingham Evening Post 6th October 1885 reported that:
The Duke of St Albans has recently given an acre of land near the Bestwood colliery and adjoining the main road to Papplewick for burial purposes, and has promised to plant a number of shrubs and trees in the cemetery as soon as the Bestwood Coal and Iron Company have completed the erection of the fence, which latter operation was commenced last week.
This gift of land will prove a great convenience to the colliery population in the neighbourhood as the churchyard where interments have hitherto taken place is situate nearly two miles from the colliery workmen's houses.
It was later reported
Bestwood Notts. Consecrated Burial Ground.
16th June 1886. The Bishop this day consecrated a piece of land situate at Bestwood in the County of Nottingham and Diocese of Southwell, with the usual formalities on the petition of John Lancaster of Bilton Grange Rugby in the County of Warwickshire Esquire, James Snelus of Workington in the County of Cumberland Esquire, Byron Lord Ronald of Kensington in the County of Middlesex Esquire, and Archibald Stewart Hawthorne, Clerk M.A. Vicar of the Vicarage and Parish Church of Bestwood aforesaid the trustees for the time being under or by virtue of the Indenture of Conveyance thereof. The sentence of Consecration was read by the Registrar, signed by the Bishop and ordered by him to be registered.
Selected Memorials in the Cemetery
IN LOVING MEMORY OF
SAMUEL CARTER
THE BELOVED HUSBAND OF
SARAH ANN CARTER
WHO WAS KILLED AT BESTWOOD COLLIERY
DEC 6TH 1898 AGED 56 YEARS
GONE BUT NOT FORGOTTEN
ALSO
SARAH ANN CARTER
WHO DIED OCT 15TH 1912
AGED 63 YEARS
IN
LOVING MEMORY OF
JOSEPH H. HOLLINGWORTH
ACCIDENTALLY KILLED AT
BESTWOOD COLLIERY
APRIL 16TH 1935
AGED 27 YEARS
IN LOVING MEMORY OF
HARRY
THE BELOVED HUSBAND OF
DOROTHY E. BLAGG
WHO DIED FEB 25TH 1936
FROM INJURIES RECEIVED
AT BESTWOOD COLLIERY
AGED 43 YEARS
Graves maintained by the Imperial War Graves Commission
IRIS CARTER
WREN WRNS 74213
HMS PEMBROKE 1
25TH MARCH 1947 AGED 23
755776 SERGEANT
E. BARRATT
AIR GUNNER
ROYAL AIR FORCE
4TH MAY 1941 AGED 21
L/Cpl
THOMAS. WHITBY
16th SHERWOOD FORESTERS
22ND JUNE 1917 AGED 25
The cemetery also contains the grave of the Rev John Nicholls.
It is still in use for burials, and also has a garden of remembrance.
Of the first twenty interments in the cemetery twelve are under the age of two years.