Bole St Martin
Churchyard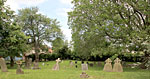 The churchyard is rectangular in shape and surrounds the church mainly on two sides, to the south and west, the northern and eastern boundaries being very close to the church. The building is heavily offset within this space to the north-east corner.Theer are a number of mature trees in the churchyard. The boundary to the north and west is a fence, to the east is a low brick wall, and to the south also a low brick wall but with iron railings to the western side.
The entrance to the churchyard from the adjoining road is to the south, through iron gates with brick gate piers and a lantern over, with a paved path leading directly to the church porch.

Grave marker for
Margaret Ashton
(1844)
The oldest graves are to be found at the eastern end of the churchyard, dating to the mid-19th century.
The western end of the churchyard is a relatively recent addition, dating from 1961, when the churchyard was extended to the west in order to provide a further burial ground. Accordingly, the most recent graves are in this area.