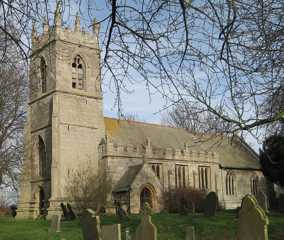 Bole
St Martin
Newark Archdeaconry
Bassetlaw and Bawtry Deanery
Introduction
Domesday Book makes reference to a "quarter of a church" at Bole.
The current church is an ashlared stone edifice consisting of nave with crocketed pinnacles, chancel, south porch and an embattled western tower with pinnacles, containing 3 bells. The style is Perpendicular, the windows, including those in the west front of the tower, being late Perpendicular. Only the north wall of the chancel is older masonry. The nave is aisleless.
The massive Norman font is octagonal with arcades and intersecting arches. The ancient oak pulpit was given in 1866 by the local ecclesiologist Sir C H J Anderson. There are four panels of late 16th Century Flemish work, showing the story of Esther and Ahasuerus, and a pair of 17th Century coffin stools. Facing the south door is a large hatchment bearing the Royal Arms of Queen Anne.
In 1866 Ewan Christian supervised restoration work, including the rebuilding of the porch. A Calvary group was erected on the Rood beam in the early 1930s.
Thanks to Richard Bates for research on this entry and to Geoff Buxton, Chris Brooke and Judith Asquith for photographs