Bradmore
Church Rooms
Features and Fittings
Due to the limited space and the multiple uses of the Mission Rooms there is a need to store the clerical furniture and fittings in the base of the tower (which is also the chancel when the multi-use of the building is needed). At the time of the research visit, this was the situation, with the oak communion rail, which has a plain sloping book rest with a padded kneeler attached below. A table with a bookrest and a wooden seat was also present.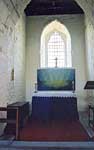 Base of the tower
Altar
The altar is set under the west window, it is set on a raised base and is constructed of oak with four turned legs and a wooden boarded top.
The Robert Dickson Tapestry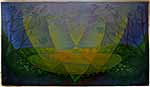 Over the altar is a woven tapestry by Joan Baxter. It was specifically designed for its current position and the intention was 'to produce a work of art which can complement the Christian Communion, provide a source for meditation and be part of the whole worship rather than a "thing" on its own.' A framed record of the dedication hangs on the wall.
Other church furnishings are stored in the modern part of the building. Modern community building fittings, chairs and folding green topped card tables are also present.
Lectern
The lectern is also of wood, with a square two stage central shaft supporting the inclined bookrest.
Parish chest
Set against the south wall is a panelled oak chest.
Font?

In the south-west corner of the chancel is a modern looking stone birdbath on the top of which is a bowl of stone that may possibly be used as an Holy Water stoop.
Fragment of wood from pulpit pre-1705

Also displayed on the chancel wall is a framed piece of carved wood with an inscription below explaining its origins:
Panel of inlaid wood which probably formed
part of the Pulpit of Bradmore Church be-
fore its destruction by fire in 1705: it is of
early 17th. century workmanship and for
many years had nailed upon it the sign of
William Stubbs of Bradmore.