Bramcote St Michael
Features and Fittings
The chancel in 2012
The chancel in 2017
The nave looking south-
west in 2012
The nave looking west
in 2017
All the chairs in the nave and the furnishings up to the Communion rail were put in as part of the 2012 refurbishment.
Furnishings from the Communion rail through the Chancel were retained including the altar, and Communion rail and two benches, two chairs and one stall.
Altar
Altar cross: commemorates Mary Sutton, wife of the schoolmaster and church organist, Harry Sutton, 27 April 1916.
Altar candlesticks are inscribed: 'LOWE Alfred and Jessie (Rosegrowers) presented to commemorate 30 years of marriage.'
Reredos
| | | | |
| --- | --- | --- | --- |
| Reredos and altar | Reredos detail | Detail | Detail |
The reredos is made of alabaster. It commemorates the twin sons of Noel Gervis Pearson and Kathleen Mary Pearson. The inscription reads:
A
THANK-OFFERING
TO
ALMIGHTY GOD
FROM
N.G.P. AND K.M.P.
FOR THEIR SONS
EDWARD ARTHUR
AND
BASIL JOHN
BORN JULY. 1ST. 1924.
Bench
Brass plaque on a wooden bench on the south side of the sanctuary:
TO THE MEMORY OF
W. H. MOORE
1895 – 1959
Font

Now in the south aisle. 13th century stone bowl lined with lead, and considered to be one of the more notable English fonts in Nottinghamshire. It is decorated with a shallow arcading of pointed arches, with a narrow trefoil design above, but traces of the once rich yellow in the depths of the design can no longer be seen. Transferred from the old church.
A wooden font, once used in the church but made redundant when the 13th century font came back into use with the reordering of the church, is in an underground cupboard off the vestry. It bears the inscription:
In loving memory of
Hilda Judd,
1915-1983
Pulpit
19th century canted ashlar pulpit.
Prie-dieu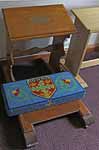 Brass plaque on prie-dieu in the 'Prayer Room':
PRESENTED TO BRAMCOTE CHURCH
IN LOVING MEMORY OF THEIR PARENTS
BY THE CHILDREN OF
HENRY EDMUND & ELIZABETH SMITH
EASTER 1957