Bramcote
St Michael
Monuments and Memorials
Chancel
North wall (from east to west)
Classical marble and slate tablet with obelisk, figure of Hope and sarcophagus:
SACRED TO THE MEMORY
OF JOHN LONGDEN ESQR OF BRAMCOTE HILLS,
WHO WAS LORD OF THIS MANOR, AND WHO SERVED THE OFFICE OF
HIGH SHERIFF FOR THE COUNTY IN THE YEAR 1807.
FROM AN UNFEIGN'D RESPECT FOR DEPARTED WORTH IT BECOMES A DUTY
HERE TO RECORD THAT HE WAS
AN ACTIVE AND INTELLIGENT MAGISTRATE,
A CONVINCED AND EXEMPLARY CHRISTIAN,
A WARM AND SINCERE FRIEND,
A KIND, FAITHFUL AND MOST INDULGENT HUSBAND,
AND A FOND AND AFFECTIONATE PARENT.
HE DEPARTED THIS LIFE, SINCERELY BELOVED AND DEEPLY LAMENTED
BY HIS FAMILY AND FRIENDS,
ON THE 23D DAY OF NOVEMBER IN THE YEAR OF OUR LORD 1818,
IN THE 50TH YEAR OF HIS AGE.

ALSO
TO THE MEMORY OF
CHARLOTTE, RELICT OF THE ABOVE
WHO DEPARTED THIS LIFE ON THE 1ST DAY OF APRIL 1848,
IN THE 75TH YEAR OF HER AGE.
(This tablet was one of the two moved from the old church in 1916.)
Brass Memorial (left of vestry entrance) by Messrs John Hardman & Co of Birmingham: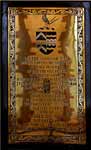 TO THE GLORY OF GOD
AND IN LOVING MEMORY OF
HENRY HOLDEN,
OF BRAMCOTE HILLS,
YOUNGEST SON OF
ROBERT HOLDEN OF NUTTALL TEMPLE,
J.P. & D.L. OF THE COUNTY OF NOTTINGHAM,
LATE CAPTAIN 38TH REGT.
AND FOR 36 YEARS
CHIEF CONSTABLE
OF NOTTINGHAMSHIRE,
WHO DIED FEBRY 1ST 1900,
AGED 76 YEARS.
AND OF HIS WIFE,
DAUGHTER OF
SIR SAMUEL CUNARD, BART.
WHO DIED MARCH 7TH 1894, AGED 67.
Pedimented tablet above vestry door:

SACRED
TO THE MEMORY OF CHARLOTTE SHERWIN
WIFE OF EDWARD MARKHAM ESQ,
AND ELDEST DAUGHTER OF THE LATE
JOHN LONGDEN ESQ.
AND OF CHARLOTTE HIS WIFE
WHO DIED AT ROME
ON THE 4TH DAY OF DECEMBER 1840,
IN THE 38TH YEAR OF HER AGE,
AFTER GIVING BIRTH TO A SON
WHO DID NOT SURVIVE HER.
THEIR REMAINS WERE DEPOSITED HERE
ON 27TH OF JULY 1841.
(This tablet was one of the two moved from old church in 1916).
Brass plaque (to right of vestry entrance) by Messrs John Hardman & Co of Birmingham: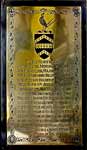 TO THE GLORY OF GOD
AND IN LOVING MEMORY OF HARRY
WINTON HOLDEN, MAJOR IN THE 49TH
ROYAL BERKSHIRE REGIMENT, ELDEST
SON OF HENRY HOLDEN OF BRAMCOTE
HILLS, BORN 6TH JULY 1852 DIED AT
GIBRALTAR 2ND JULY 1895 AND OF HIS
ONLY SON, MILLINGTON ELMHURST (TONY)
HOLDEN OF BRAMCOTE HILLS, WHO WAS
ACCIDENTALLY KILLED WHILST RIDING A
MOTOR BICYCLE ON 29TH JANUARY 1911
IN THE 18TH YEAR OF HIS AGE. EDUCATED
AT ETON COLLEGE, AS WAS ALSO HIS FATHER
HE HAD SUCCESSFULLY PASSED THE ENTRANCE
EXAMINATION FOR THE ROYAL MILITARY
COLLEGE SANDHURST, A MONTH PREVIOUS
TO HIS DEATH.
Memorial (near to the altar):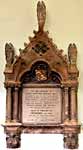 TO THE MEMORY OF
IOHN SHERWIN GREGORY ESQR
OF BRAMCOTE HILLS IN THIS PARISH, AND OF
HARLAXTON MANOR, IN THE COVNTY OF LINCOLN.
MAGISTRATE AND DEPUTY LIEVTENANT
FOR THE COVNTIES OF NOTTINGHAM, AND LINCOLN,
DEEPLY AND DESERVEDLY LAMENTED BY HIS
NVMEROVS FRIENDS AND RELATIVES,
DIED IVNE 7TH 1869, AGED 65.

ALSO IN MEMORY OF
CATHERINE, HIS WIFE,
WHO DIED AT HARLAXTON MANOR
IVNE 11TH 1892,
IN THE 86TH YEAR OF HER AGE.
(The monuments to John and Catherine Sherwin Gregory are on the north wall of the chancel near to the altar. They had no children and on her death in 1892 Bramcote Hills passed to her brother Henry Holden, and to his descendants. John Sherwin gave the land and a substantial part of the expense of building the new church. He paid for the re-casting of the old bells. His sister Frances Jane Longdon gave the almshouses at the top of Cow Lane in 1852 – they were modernised in 1984.)
South Wall
Brass Plaque:
IN MEMORY OF
CLAUDE CHAPPELL
VERGER OF THIS
CHURCH FOR 30 YEARS
1939 - 1969
Slate Memorial signed 'W. Haywood Sculp':

Here
lie the Remains
of the Reverend Mr
Benjamin Cokayne
VICAR OF ATTENBERG
35 Years, Who Died
March ye 10th In the
Year of our Lord
1741 Aged
65 Years.
(In 1720 Cockayne was accused of scandalous behaviour and suspended for three years. He was buried in the old church and the tablet was moved in 1917.)
Brass plaque on window ledge:
IN LOVING MEMORY OF
WILLIAM AND ALICE COLVILLE
CHORISTERS IN THIS CHURCH
FOR 47 AND 69 YEARS RESPECTIVELY
Metal plaque:
ERIC FRANK WALKER,
BORN 24TH JANUARY 1931,
DIED 6TH OCTOBER 1965.
"ALWAYS REMEMBERED."
Brass Plaque:
TO THE GLORY OF GOD
THIS CARPET WAS GIVEN
IN LOVING MEMORY OF
BERYL EVELYN
WIFE OF WILLIAM HARRISON
1973
Nave
North Wall
Small plaque on the ledge of Window 4:
GEOFFREY ROBERT SHIPMAN
1950 – 2001
LOVING HUSBAND and FATHER
READER OF THIS PARISH
"The world and its desires pass away, but the
man who does the will of God lives for ever."
1 John 2:17
Slate Memorial (between Windows 4 and 5):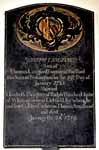 JOSEPH LANGFORD,
Son of Thomas Langford, Esquire, of Bassford
was born at Nottingham on the 19th Day of
January 1721;
Married
Elizabeth, Daughter of Ralph Hawkes, Esquire
of Whittington near Lichfield, by whom he
had four Children, Catherine, Thomas, Ann & Frances
and died
January the 24th 1759.
Slate Memorial (between Windows 5 and 6):

IN MEMORY OF
THE REVEREND THOMAS WILKINSON,
BORN AT BAMPTON, IN WESTMORELAND:
FOR FIFTY YEARS AN INHABITANT AND CURATE
OF THIS PARISH,
AND FOR FORTY YEARS VICAR OF KIRK-HALLAM,
IN THE COUNTY OF DERBY.
A TENDER HUSBAND AND FATHER, A KIND AND SINCERE
FRIEND, A PIOUS AND USEFUL PASTOR, WHO, WHILE
HE TAUGHT HIS FLOCK THE DUTIES OF RELIGION
AND CHARITY, DID, IN ALL THE RELATIONS OF LIFE,
HUMBLY AND UNAFFECTEDLY PRACTISE THEM.
THIS TABLET
WAS PLACED NEAR THE SPOT WHERE HE IS INTERRED
BY ANN, HIS AFFLICTED WIDOW.
HE DIED AT BRAMCOTE THE 8TH DAY OF JULY, 1841,
IN THE 77TH YEAR OF HIS AGE.
(Tablet transferred from the old church, 1917. His grave is in the old churchyard.)
Slate Memorial (between Windows 6 and 7):
IN MEMORY
of the
Revd CHRISTOPHER GIBSON
of Kirkby Lonsdale
in Westmorland;
who was upwards of 19 Years
Vicar of Attenborough.
He died July 7, 1767,
Aged 46.

Mr GIBSON, was a Man of Good
Sense & Learning , a convinced
and pious Christian, a dutiful
Son & a truly diligent & charita-
ble Parish Priest.
(Tablet transferred from the old church, 1917.)
East Wall
Mural slate tablet to Henry Hanley (to the south of the chancel arch):

Detail

Inscription
H EAVEN HOLDS THAT SOULE, WHO TOOK SUCH CARE,
E VERLASTING FEASTS FOR OTHERS TO PREPARE.
N ATURE NE'RE TAUGHT TO DOE SUCH EXCELLENT THINGS
R EASON FORBIDS SUCH ACTS, AS DAMAGE BRINGES
Y ET THESE (THE FRUITS OF FAITH) BY HANLY DONE
H ANLY WILL MAKE TO LIUE WHEN WE ARE GON
A ND LET HIS NAME IMMORTALL BEE, THOUGH DEAD
N EVER FORGOTTEN, WHO SOULES & BODIES FEDD
L IVE HANLEYS NAME THE BASIS SURE WAS GOOD
Y OUR HOUSE IS RICHER DOWNE, THEN WHEN IT STOOD.
HENRY HANLEY ESQ. WHOSE BODY IS INTERRED IN THIS
CHURCH, CAUSED AN ALMESHOUSE TO BE ERECTED IN
NOTTINGHAM FOR 12 POORE PEOPLE, & DID GIUE ONE
HUNDRETH POUNDS YEARLEY FORTH OF HIS AUNCIENT
INHERITANCE LANDS FOR PIOUS AND CHARITABLE USES TO
CONTINUE FOR EVER (THAT IS TO SAY) 40LI FOR THE MAIN
TENANCE OF THE SD 12 POORE PEOPLE. 20LI FOR A WEEKELY
LECTURE IN NOTTINGHAM 20LI FOR A PREACHING &
RESIDENT MINISTER IN THIS PLACE, 5LI TO THE POORE
OF THIS TOWNE, 5LI TO THE POORE OF WILFORD, 20S
TO THE POORE OF BESTON, 20S TO YE POORE OF CHILWELL,
20S TO YE POORE OF ATTENBOROW & TOTON, 20S TO YE POORE
OF STAPLEFORD, 20S TO YE POORE OF TROWELL, 20S TO YE POORE
OF WOLLATON, & 4LI TO YE POORE PRISONERS IN YE GAOLES FOR
YEE COUNTY OF NOTT. YEARLEY FOR EVER, & ONE 3D BELL TO
THIS CHURCH, WHOSE PIOUS AND CHARITABLE DISPOSITION IS
WORTHY OF IMITATION. HE DIED THE 10TH DAY OF IVNE 1650.
South Aisle
South Wall

TO THE GLORY OF GOD
AND IN MEMORY OF
MY HUSBAND AND BEST FRIEND
HARRY BROCKLESBY BARTRAM,
CAPTAIN ROYAL HORSE ARTILLERY.

AS CAPTAIN OF "E" BATTERY R.H.A. 3RD CAVALRY BRIGADE
HE LANDED IN FRANCE WITH THE EXPEDITIONARY FORCE
ON AUGUST 17TH 1914. THE GUNS OF "E" BATTERY
WERE THE FIRST BRITISH GUNS TO BE FIRED IN THE
CAMPAIGN, AT 11.10a.m. ON SATURDAY AUGUST 22ND NEAR
BRAY BELGIUM,
DIED 16TH SEPTEMBER 1914.
AND TO THE MEMORY OF HIS WIDOW FOR 48 YEARS
ALICE EUGENIA
DAUGHTER OF THIS PARISH
DECEMBER 11TH 1877 TO MAY 6TH 1962.
ALSO TO THEIR ONLY SON
HARRY BOB BROCKLESBY
CAPTAIN ROYAL ARTILLERY
BORN IN THIS PARISH SEPTEMBER 25TH 1914
KILLED IN THE DEFENCE OF HONG KONG
CHRISTMAS DAY 1941.
West Wall
Gregory hatchment.

Hatchment is a memorial to the Sherwin family. John Sherwin, the 19th century squire of Bramcote Hills, was the principal benefactor of the new church. He was the son of John and Charlotte Longden, and changed his name to Sherwin in order to succeed to the Bramcote estates in 1825. He assumed the additional surname of Gregory in 1860. He married Catherine Holden of Nuthall Temple.
'Prayer Room'
Metal plaque on wall beneath window:
In Memory of
Dr. John Buckley
1907-1993 Church Warden
and Mrs. Phyllis Buckley
1908-1972 Parish Visitor
West End Extension
Brass Plaque:
IN AFFECTIONATE MEMORY OF
MY PARENTS
HENRY JOHN PEARSON
and
LAURA KATE PEARSON
WHO LIVED IN THIS PARISH
FROM 1887 TO 1913
THESE VESTRIES WERE
DEDICATED ON 4TH MARCH 1952