Burton Joyce
St Helen
Monuments and Memorials
Monuments inside the Church
There are four old monuments of particular interest:-
1Alabaster monument standing against the S wall of the nave, to Alis Roose of Laxton who died in 1578. It is badly worn. Alis' first husband was the younger son of Sir Brian Stapleton (see below). The inscription is almost illegible, but Thoroton was able to quote it.
2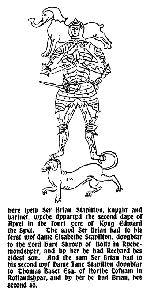 Alabaster monument now standing against the north wall of the nave. This is to Sir Brian Stapleton, Lord of the Manor, and has an animal (elephant?) at the head and another at the foot, and a lion rampant at each corner. Again Thoroton gives the inscription. An interesting feature discovered when the monument was moved is that it was 'second hand'. A craftsman had started to carve a large cross on the reverse, but got it to one side, so the other side was now used.
3

Now situated near the font in the NE corner of the nave is the effigy of a knight in armour believed to be of Sir Robert de Jort, a 14th Century Lord of the Manor (whose family gave the village its second name). He was Sheriff of Nottingham in 1331 and may have been responsible for the enlarging of the church
4

Behind the pillar near the pulpit in the SW corner of the nave is an incised tablet to Alice Lacock, now very badly worn and illegible, but again Thoroton was able to quote it.
Other Monuments
Chancel
Brass, N wall near chancel arch
Neare this place lyeth Buried ye body of Mr
JOHN GIFFORD sometime Minister of this
Parish for the space of 37 years, he departed
this life ye 7th day of Februarie in the 65th
yeare of his age. Anno Domini 1662
Brass, S wall near altar
This reredos is erected by
Harriet Jane Minnit in loving memory
of her brother-in-law George Hurst
of Burton Joyce and her sister Selina Abigail
his wife, and to commemorate their long
and devoted service to this Church and Parish March 1922
Lord I have loved the habitation of Thine House
and the place where Thine honour dwelleth
Ps 26-8
Slate, S wall behind choir pews
WILLIAM ARTHUR
CRAGG
CHORISTER IN THIS CHURCH
FOR SEVENTY-FIVE YEARS
DIED 1926
Alabaster, S wall, above previous
IN MEMORY OF
THE REV. JOHN ROLLESTON M.A.
FOR 45 YEARS
VICAR OF THIS PARISH
WHO DEPARTED THIS LIFE NOV 17 1862
AGED 75 years
2 TIM CH 4 VE 18
REV CH 22 VE 17
ALSO OF
ELIZABETH HIS WIFE
DIED APRIL 9 1861
AGED 75 YEARS
THEY SLEEP IN JESUS
THIS TABLET WAS ERECTED IN GRATEFUL
REMEMBRANCE OF THEIR LABOURS
BY PARISHIONERS AND A FEW FRIENDS
Nave, SE corner, grouped
Brass.
BEFORE THE RESTORATION OF THIS CHURCH FINISHED IN 1879
THE EFFIGY SUPPOSED TO BE OF ROBERT DE JORZ DE BERTUNE STOOD
ERECT IN THE RECESS OF A SMALL WINDOW IN THE NORTH AISLE
THE MONUMENTS OF SIR BRIAN STAPELTUN AND ALIS ROOSE
WERE IN THE EAST END OF THE CHANCEL. THE MURAL TABLETS WERE
REMOVED FROM DIFFERENT PARTS OF THE CHURCH
Alabaster or marble
TO THE REVERED MEMORY OF
WILLM JAMSON, WHO DIED JUNE 3 1829 AGED 66
& ANN MARIA HIS WIFE DIED MARCH 11 1827 AGED 55
THIS TABLET IS HERE PLACED BY THEIR CHILDREN
Blessed are the dead who die in the Lord Rev xiv-3
Their children arise up and call them blessed Prov. xxxi 28
IN THE SAME VAULT LIE THE BODIES OF
ANN FRANCES THEIR DAUGHTER WHO DIED APRIL 5 1810 AGED 10
AND WILLIAM THEIR SON WHO DIED DECR 2 1809
AGED 3 MONTHS
Brass, with colour
In memory of
WILLIAM WILLIAMSON
of the Hall Burton Joyce
who died Dec 30 1873 Aged 75 years
'Mine eyes have seen thy salvation'
Consecrated
to the precious memory of Sarah
the beloved wife of John Jeremiah Bigsby M.D.
and second DAUGHTER of WILLM AND MARIA JAMSON
She died Sept 25 1835 aged 33 years.
"Her Conversation was in heaven" Phil 10
O ye villagers for whom in love she laboured,
"Look unto Jesus and be saved"
In the same vault also rest the bodies of her two infants
SARAH HURDIS and WILLIAM JAMSON
SACRED TO THE MEMORY OF
ROBERT PADLEY
OF BURTON JOYCE IN THE COUNTY OF NOTTINGHAM ESQ
WHO DIED ON THE 16TH DAY OF JUNE 1833
AGED 75 YEARS.
IN THE COURSE OF A LONG AND USEFUL LIFE HE
RAISED AND COMMANDED A CORPS OF VOLUNTEERS
CALLED THE TRENT VALE VOLUNTEERS
HE ALSO FILLED THE OFFICE OF
JUSTICE OF THE PEACE FOR THE COUNTY OF
NOTTINGHAM
AND OF ANN PADLEY HIS WIFE
ELDEST DAUGHTER OF THE LATE JOHN NEWTON
OF BULWELL HALL IN THE SAID COUNTY
OF NOTTINGHAM ESQ.
SHE DIED THE 17TH DAY OF SEPTEMBER 1833
AGED 71 YEARS
AND OF JOHN NEWTON PADLEY
SECOND SON OF THE SAID ROBERT AND ANN PADLEY
HE DIED THE 7TH DAY OF DECEMBER 1834
AGED 45 years
THEIR MORTAL REMAINS ARE DEPOSITED IN A VAULT ON
THE SOUTH WEST SIDE OF THE PORCH OF THIS CHURCH
BLESSED ARE THE DEAD WHO DIE IN THE LORD
In memory of
two tenderly beloved and deeply lamented
Daughters
the only children of
Robert and Mary Cooper Brett
Sarah Elizabeth
attractive in person and mind
on the 11th of December MDCCCLIII
Aged XXV years
"thou wert that flower of promise and of prime
whose opening bloom 'mid many an adverse blast
charm'd thy fond Parents thro' this desert clime
But charm'd them with a rapture soon o'ercast"
Mary Brackenbury
lovely in person, amiable and benevolent
on the XXVIIIth of December MDCCCLIV
Aged XXIV years
"Yet once more I hope to have full sight of her
in Heaven without restraint"
This tablet is erected by their sorrowing parents
Tombstone found under the floor during the refurbishment of 1997, now standing at the back of the church. See also first memorial.
HERE LIETH THE CORPES
OF MR JOHN GIFFORD
WO DIED THE 7
OF FEBRUARY ON
1663
"The life of the just is blessed"