Elkesley St Giles
Features and Fittings
Chancel
Altar
| | |
| --- | --- |
| Altar and reredos | Piscina |
A stone altar set on moulded, circular columns with a small openwork wooden reredos behind, set on the east wall. Below the reredos and to either side of the altar, also on the east wall, is a plain wooden dado.
Piscina
In the south wall of the chancel is an arched and cusped piscina.
Nave
Font

Font
Situated at the west end of the north aisle, a round basin atop a square plinth, moulded at the apex. The basin appears earlier than the plinth and may be of the 18th century, the plinth appears 19th century.
It has a conical wooden cover, probably 19th or 20th century.
Gallery

The tower arch
and gallery
At the west end of the nave, to the west of the tower arch, is a 19th century gallery with blind arched and cusped panels.
A stairway gives access from the west of the tower.
Pews

Old pew
Pine, moulded ends, all 19th century, except for the front central bench which is earlier.
Stations of the Cross

A Station of
the Cross
The south wall of the nave contains a series of wooden Stations of the Cross set in a line below the windows; probably 20th century.
Pulpit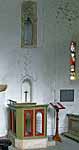 Pulpit and
statue niches
Located at the north-west junction of the chancel with the nave, a simple open box with moulded gothic openings set on a stone plinth, 19th century.
Statue niches
In the north nave wall at the junction of nave and chancel and set diagonally is a single niche with cusped arch, decorative hood mould, label stops and large decorative finial. Above it is a further single arched and cusped niche with a crocketed hood mould, finial and label stops.