Everton Holy Trinity
Bells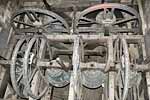 The six bells were re-hung by Mears in 1926. The front four bells retain their canons and hang from their original wooden headstocks with ball bearings placed on the old hooped gudgeons. The two tenors do not have canons and are hung from cast iron headstocks bearing Mears name with single row ball bearings. The frame consists of a wooden low-sided frame, Elphick type Z, Pickford Group 6.A, containing the front four bells and the two tenors are hung between the side of this and two cast-iron side frames which are 'X' braced, Pickford Group 8.2.D.
Prior to 1872 the old 3 bells were:
M
1.W.CRAMPTON LOUGHTON C.W.1717
L

32.5''

6.1.23

DAN HEDDERLEY CAST US

35''

7.0.21

SOLI DEO GLORIA PAX HOMINIBUS 1705

36.5''

8.016
The treble and 2nd were by Daniel Hederley, probably then at Bawtry. The tenor has a typical York inscription and so must be the work of Samuel I Smith. The present ring comprises six bells all cast by Taylors of Loughborough 1872.