Everton
Holy Trinity
Glass
There is no stained glass earlier than the 1870s when memorial windows were placed in the window of the west wall of the tower and the three windows of the apse. All are by Wailes of Newcastle.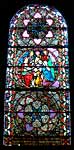 The west
window
The west window is made up of three panels the central panel shows Christ blessing children the upper and lower panels are floriate designs. The inscription underneath reads:
+ ERECTED BY MARY METCALFE IN AFFECTIONATE MEMORY OF HER PARENTS
WILLIAM HARLAND M D OF SCARBRO WHO DIED APRIL 6

TH

1866 AGE 79
AND ANNE HIS WIFE WHO DIED FEB 17

TH

1844 AGED 44 +
The windows in the apse on the left and right show Christ preaching, both are dedicated to:
+Amelia Gordon died May25th 1876 age 76 years+
The centre window is dedicated to:
+William Metcalfe; M A 32 years vicar of this parish; died Feby 25th 1879 aged 65+
Henry Spencer Metcalfe, records the arrival of the glass from Newcastle in his diary:
'Tuesday May 8th 1877. Stevenson going on building the schoolroom. Hill of Gringley putting stone mullions for windows in church. The stained glass arrived from Wailes of Newcastle and was found to be smashed in several places'.
Friday June 8th 1877. Stained glass put in by Morrison, the fractures having been mended and the sky blue being relieved by leaves inserted at Newcastle'.
The stained glass in the centre window was added later in memory of Henry's father, the Rev William Metcalfe, but there is no mention of it being put in place.