Everton Holy Trinity
Features and Fittings
Stoup in the porch
Font
Base of the
original font
Pulpit
Porch
There is a medieval holy water stoup to the east of the south doorway in the porch.
Nave
The font is a replica of a Norman original, with interlaced, arcading, zig zag, cable moulding and other ornament. However, the base of the original 12th century font still exists under the tower arch.
The pulpit, with traceried panels, and pews are all 19th century.
Chancel
The altar rail is 18th century with four tapered, rectangular panelled, carved balusters.
With the exception of moveable objects such as Communion vessels and three Jacobean chairs and lecterns there are no more fittings of note, other than those mentioned in the history section.
North Aisle
In the north aisle, by the vestry, is a wooden plaque dated 1841.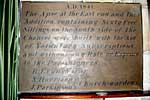 A. D. 1841.
The Apse at the East End and the
Addition containing Sixty Free
Sittings on the South side of the
Chancel were built with the Aid
of Voluntary Subscriptions.
and without any Rate or Expence
to the Parishioners.
R. Evans, Vicar
S. Harrison
}
Church-wardens
J. Parkinson
}