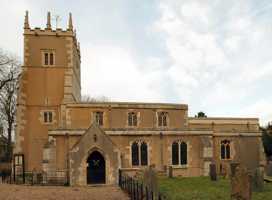 Farndon
St Peter
Newark Archdeaconry
Newark and Southwell Deanery
Introduction
Built of stone, the church consists of a chancel with north vestry and south chapel, a clerestoried nave, aisles, a south porch and an embattled west tower, the latter mainly late 14th century but heavily repaired in 1558. Portions of an earlier, Saxon-Norman, church, in the form of a doorway and herringbone masonry, are incorporated in the north wall of the nave.
The south arcade of three bays is on Early English piers, circular with 4 detached shafts, and 4 major and minor shafts, with simply moulded capitals. Several square-headed windows were installed towards end of the 14th century.
The plain octagonal font is Early English. The nave roof dates from 1664.
The church was renovated 1864-94 and the north aisle rebuilt in 1897 by Hodgson Fowler.
Particular thanks to Emily Knight, Chris Brooke, George Harper, Andy Nicholson
for research on this entry and to Geoff Buxton for the photographs.