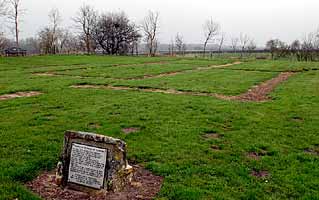 Flawford
St Peter
Nottingham Archdeaconry
West Bingham Deanery
Introduction
St Peter, Flawford (or Flawforth, both spellings are used) is a lost church on a site just over one mile east of Ruddington. It is on open land in an elevated position, and at a point where ancient lanes linking the villages of Ruddington, Plumtree, Edwalton and Bradmore, cross. The four villages are all roughly equidistant from the church.
The original church was a Saxon building, as evidenced by excavations. It was largely replaced by a medieval church in the 13th and 14th centuries. The fact that Flawford was built in this central and commanding position in order to serve the surrounding villages implies that it was the earliest church in the area, although documentary evidence shows that it served only as the Mother Church to Ruddington and Edwalton.
Flawford has been a source of controversy, even down to the spelling of its name - Thoroton recorded it as 'Flawforth', Throsby as 'Flawford', and the two names co-exist today in Flawford House and Flawforth Lane.
The church was abandoned by the 1770s and demolished in 1773 (the nave) and 1778 (the chancel) although the burial ground continued to be used until 1787, and possibly later. Today the site is maintained as open ground with the outlines of the church depicted in stones.
Particular thanks to Janice Avery for research on this entry,
and to Professor Bernard Hamilton for translating numerous Latin texts
and to Geoff Buxton for the photographs