Hayton
St Peter
Glass
Chancel
The east window is by Kempe and was commissioned in 1876 by the Hartshorne Barbers of Hayton Castle. The inscription at the bottom of the window reads:
To y

e

loved memory of Robert Hartshorne Barber of Hayton Castles,
born 6

th

April 1784, died 12

th

Augt 1870. Also of Sarah his wife, born 3

rd

April
1797 died 18

th

Octr 1873. This window is placed by their children.
The east window
St Gabriel
Detail of the
east window
Nave
There are three stained glass windows in the north wall of the nave.
The easternmost window commemorates William Cartwright (1779-1830):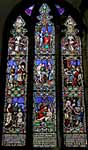 GIVEN FOR THE GLORY OF GOD AND
IN AFFECTIONATE REMEMBRANCE OF
WILLIAM CARTWRIGHT. BORN SEPT: 29

TH

A:D:1779
DIED DECR 9

TH

A:D:1830-HE SERVED THE OFFICE OF
JUNIOR BAILIFF FOR THE BOROUGH OF EAST RETFORD
FOR TWO YEARS-FROM A:D:1819 TO A:D:1821
ERECTED BY HIS SON WILL

M

A:CARTWRIGHT
The middle window is in memory of Mary Cartwright (died 1866):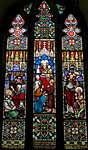 TO THE GLORY OF GOD IN AFFECTIONATE
REMEMBRANCE OF MARY THE DEARLY BELOVED
DAUGHTER OF WILLIAM & HARRIET CARTWRIGHT
BORN MAY 26

TH

1861 DIED JUNE 8

TH

1866
The window at the west end of the wall commemorates William Cartwright (1809-1884):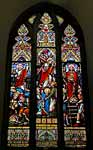 TO THE GLORY OF GOD
AND IN MEMORY OF
WILLIAM ALEXANDER CARTWRIGHT.
BORN 22 NOV: 1809 DIED 28 AUG:1884
THIS WINDOW IS ERECTED BY
HIS WIDOW AND CHILDREN
South Aise
The east window in the south aisle is in memory of John Smith (died 1861) and his wife, Anne (died 1851):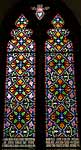 JOHN SMITH OF THE SQUARE EAST RETFORD
BORN A:D:1768 DIED JAN:9

TH

1861
ANNE SMITH HIS WIFE
DIED JAN:10

TH

1851 AGED 80 YEARS
THEIR NIECE MARY ANNE CHAPMAN HAS
RAISED THIS TRIBUTE TO THEIR MEMORY
The window at the east end of the south wall commemorates Emily Jane Chapman Mee (1823-1888):