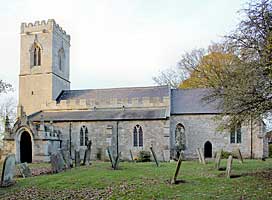 Hayton
St Peter
Newark Archdeaconry
Bassetlaw and Bawtry Deanery
Introduction
The oldest parts of the building are the late 12th century arcade and the south door. There is some Transitional work, parts are Early English, and there is a little of the Decorated period. However the earliest historical references to the church appear in the late 12th century when Hayton was given to the Chapel of St Mary's and the Holy Angels (St Sepulchre's) at York.
The stone building consists of a chancel, a nave separated from the south aisle by an arcade of three bays, a south porch, and an embattled west tower containing three 16th century bells and a remarkably intact late medieval roof. The arcade is on circular piers, one capital with upright leaves exactly as at Worksop Priory, as is the round-arched south door. The window tracery and the ashlar-faced tower are mostly early 14th century. The south porch with a stone roof on transverse ribs was built around 1400.
There is a trefoil-headed piscina in the chancel, and another at the east end of the south aisle. The font is 14th century, and is octagonal with large leaves in the panels.
The east window is by Kempe, dating from 1877. Much of the rest of the glass is 19th century. There are three monumental effigies probably of the 14th century but all very worn, and two medieval cross slabs, one just a small fragment.
The church was restored in 1885 by the architect Somers Clarke.
Particular thanks to Emma Kilkelly, Michael Jones, Chris Brooke and Andy Nicholson for research on this entry
and to Geoff Buxton and Chris Brooke for the photographs.