Kirklington
St Swithin
Monuments and Memorials
Throsby recorded that the church consisted of a nave and large chancel: 'In the latter is a little monument for Lady Catherine More, wife of John More knt. She died in 1702. Below is a floor stone for her husband. Here are several stones for this family, who were sometime owners of the land here. In the chancel also is an old stone with a cross, on one side of which is a book, and on the other a chalice.'
Chancel
Wall mounted monuments on the north side, and one on the south side.
Monument to
Lady Catherine More
Detail of
inscription
At the east end of the south wall is a memorial tablet to Lady Catherine More, who was 'renowned by reason of her illustrious lineage and noble origin'. She was the wife of John More of Kirklington, knight. His father, Sir Edward More, a Royalist, fell at the Battle of Marston Moor, and was brought to Kirklington for burial on 3 August 1644. Lady Catherine, according to the inscription, 'gave no less attention to the cultivation of virtue than to the training of her children'.
Her son, also Sir John More, supposedly gave £300 in 1721 to support a poor student at a Benedictine monastery in Germany. According to Catherine More's memorial 'she openeth her hand to the needy and extendeth her hands to the poor, therefore shall she laugh at the last day.'
The inscription is damaged but reads:
Certiissima
indubitatissima que […] glori=
[..]ae resurrectionis
Hic […] corpus Dominae Catherinae More
Consortis John More de Kirklington Armigeri:
Quae illustribus clara natalibus [… …] Antiqi=
ssima nee non Nobilissima Constbilorum ortum tru=
xit Juncta Coniugio non minorem excollendis vir=
tutibus, quam liberis educandis operam dabat viro
semper placare studens, sed magis Deo In pri=
vatis publicisque mortalium calamitatibus ~ ~
indefessa grata Deo et Hominibus ut pie vixit
pientissime quae obit die 21 May Anno Domini 1702
Cuius Animae propietur Deus
Manum suam aperuit inopi & palmas suas
extendit ad pauperem ideoque ridebit in ~
die nouissimo Prov: Ch: 31 V 25
At the west end of the north chancel wall are two monuments: a tablet in memory of Alexander Boddam Whetham (died 1872) and beneath it a terrazzo tablet commemorating his wife, Maria Agatha, who died in 1895.

IN AFFECTIONATE REMEMBRANCE OF
A BELOVED HUSBAND AND FATHER
ALEXANDER BODDAM WHETHAM,
YOUNGEST SON OF THE LATE
RAWSON HART BODDAM,
GOVERNOR OF BOMBAY.
HE WAS CAPTAIN IN HER MAJESTY'S
18TH AND 58TH REGIMENTS,
HONORARY COLONEL
OF THE ROYAL SHERWOOD FORESTERS
AND J.P. FOR THE COUNTY OF NOTTS.
HE WAS BORN JULY 6TH 1806,
DIED AT ROME MARCH 29TH 1872,
AND IS INTERRED IN THE FAMILY VAULT
IN THIS CHURCHYARD.

"BLESSED IS THE MAN THAT TRUSTETH
IN THE LORD, AND WHOSE HOPE THE
LORD IS." JEREMIAH. XVII. 7TH VERSE.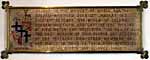 SACRED TO THE MEMORY OF MARIA AGATHA
BODDAM-WHETHAM BORN 12TH JANUARY 1818
DIED 21ST OCTOBER 1895 WIDOW OF COLONEL
BODDAM-WHETHAM AND LADY OF THE MANORS
OF KIRKLINGTON AND HOCKERTON. THIS TABLET AND
THE EAST WINDOW OF THIS CHURCH ARE DEDICATED
BY HER CHILDREN AND OTHER MEMBERS OF
HER FAMILY IN TOKEN OF THEIR DEEP AFFECTION.

"SO HE GIVETH HIS BELOVED SLEEP."
Between the two stained glass windows in the north wall are monuments to John Whetham (died 1853) and Frank Sotheron (died 1839).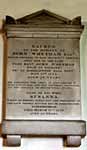 SACRED
TO THE MEMORY OF
JOHN WHETHAM ESQE
MAJOR-GENERAL IN HER MAJESTY'S SERVICE,
ONLY SON OF THE LATE
VERY REVD JOHN WHETHAM
DEAN OF LISMORE;
OBT AT KIRKLINGTON HALL NOTTS
MAY 13TH 1853
AGED 70 YEARS.

HE ENTERED THE ARMY IN 1794, SERVED IN
HOLLAND IN 1799, AND WAS SEVERELY WOUNDED
AT THE ASSAULT OF MONTE-VIDEO IN 1807.

ALSO OF HIS WIFE
SUSANNA,
WIDOW OF ROBERT BAYLY ESQR, AND DAUGHTER OF
THE LATE THOMAS KINGTON ESQR OF BRISLONGTON,
SOMERSETSHIRE.
DIED MARCH 22ND 1870,
AGED 90 YEARS.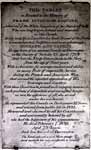 THIS TABLET
is Erected to the Memory of
FRANK SOTHERON, ESQUIRE,
Admiral of the White Squadron of his Majesty's Fleet,
Who was long known, beloved and respected
in this Parish;
As an indulgent Landlord, a kind Friend of the Poor;
a warm-hearted Neighbour and most affectionate
HUSBAND AND FATHER.
He was born of an ancient Family at Darrington,
in the County of York, the 23 April 1763,
And bore the King's Commission in the Navy,
from the age of Nine years,
With a character for courage, conduct, and ability,
in many Posts of responsible Service,
during the French and American Wars,
that earned the repeated approbation of His
Sovereign and Country;
With these Qualities he joined such engaging manners
such goodness of disposition and unruffled temper,
as won the affections of all who served
under his command.
He represented this County in Parliament 19 Years,
and retired from public life in 1832,
Honoured and esteemed by all his Constituents
And universally beloved by all
who had the happiness of his acquaintance.
He died February 7th 1839,
Aged 73 Years,
And lies buried at Darrington.
"The Lord ordereth a good Man's going,
and maketh his way acceptable to himself."