Kirklington St Swithin
Organ
| | |
| --- | --- |
| | Organ console |
Built in 1897 by an unknown organ builder, and repaired and enlarged in 1910 by J.R. Cousans. The organ chamber is in the south wall of the chancel was was built in 1953.
The full technical specification of the organ is available on the National Pipe Organ Register website.
There are two brass plaques on the case of the console: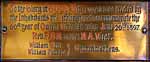 To the Glory of GOD. This organ was erected by
the Inhabitants of Kirklington to commemorate the
60th year of Queen Victoria's reign June 20th 1897.
Rev. F.B. Manners, M.A. Vicar.

William Bett.

}


Churchwardens

William Pinder.
}
There is also a metal plaque recording the building of the organ chamber in 1953:

THIS CHAMBER, THE GIFT OF JOHN
BEALBY EASTWOOD ESQ., WAS BUILT
TO COMMEMORATE THE CORONATION
OF HER MAJESTY QUEEN ELIZABETH II
AND TO ACCOMMODATE THE ORGAN
WHICH HAD STOOD FOR MANY YEARS
ON THE NORTH SIDE OF THE CHANCEL.

THE RENOVATION AND IMPROVEMENT
OF THE ORGAN WAS MADE POSSIBLE
BY THE GENEROSITY OF PARISHIONERS
AND OTHER FRIENDS OF THIS VILLAGE
CHURCH AND THE WHOLE WORK WAS
DEDICATED BY THE RT. REV. F.R. BARRY,
LORD BISHOP OF SOUTHWELL ON MAY
12TH 1953, RUPERT JOHN STEVENS
BEING VICAR AND FRANK SLANEY
AND JOHN FREDERICK MILNER,
CHURCHWARDS.