Normanton-on-Trent St Matthew
Churchyard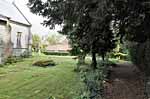 The southern part
of the graveyard
The churchyard is rectangular in shape with the church offset in the south-west corner. It is bounded to the north and east by mixed deciduous and holly hedges, with Tuxford Road and South Street beyond. A row of standard hollies is set behind the hedge. An early 19th century brick boundary and barn wall, and a cupressus hedge, separate the churchyard from Normanton Hall to the west and south. There is a private timber gate to Normanton Hall in the western boundary, reflecting the fact that the Hall was the vicarage for many years during the 19th century. There is a public access off Tuxford Road, comprising stone piers and iron gates, which were provided in 1906 at a cost of £50 16s 3d. There was also a pair of timber gates at the South Street access, but these were removed recently.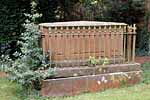 The Robinson table tomb
Around 55 grave markers survive within the churchyard, most of which have now been laid flat to facilitate maintenance. Very few remain legible due to weathering and the growth of moss and lichen, an exception being the elegantly embellished slate marker by Walls of Newark, commemorating Mary Skelton, the wife of George, who died at the age of 39 in 1803. There are three table tombs in the churchyard, one of which, to the north of the church, is too overgrown for the inscription to be visible. A second, in the eastern part of the churchyard, commemorates Elizabeth Hall, who died in 1816, and who is also memorialised in the church. The third table tomb, which is located to the south-west of the church, commemorates William Robinson, who died in 1855, and his widow Mary, who died in 1860. Two graves, just outside the southern chancel doorway, have ledger markers, one carved with a raised cross. Neither is legible due to the growth of moss, but they are likely to date from the late 17th or early 18th century.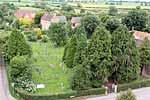 The churchyard
extension
By the mid-19th century there was need of a churchyard extension, and land was bought in 1865 to provide an addition to the churchyard, at the junction of Tuxford Road and Mill Lane, at a cost of £200. Burials continued there for over a century, and a further extension was then purchased off Brotts Road, the first interment taking place in 1987.
The most recent burial in the original churchyard was that of Edwin Muncaster Turner, who died in 1951 and who had been vicar of the parish until 1949. There are also three modern memorials, to Mary Parker who died in 2003, to Mr and Mrs Lobley who died in 1997 and 2003 respectively, and to John Philip 'Pip' Skelton, who died in 2006. Mrs Parker was a church warden, and Mrs Lobley was a prominent fundraiser on behalf of St Matthew's. Mr Skelton was also a churchwarden, and he was responsible for maintaining and winding the church clock for over fifty years.