Normanton-on-Trent
St Matthew
War Memorial
The war memorial is sited in the churchyard to the east of the church and comprises a granite obelisk on a stepped square base, approximately 2.5m in height. On the east side it reads as follows: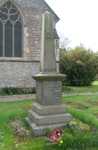 TO THE
GLORY OF GOD
AND IN
GRATEFUL
MEMORY OF THE
YOUNG MEN OF
THIS PARISH
WHO FELL IN
THE GREAT WAR
1914-1918
PTE J H NOBLE
LCE CPL C W PARKIN
PTE G H TAYLOR
PTE L D ALLAN
PTE F HILL
PTE A LAMBERT
PTE F TEMPLEMAN
SGT P ALEXANDER
GREATER LOVE HATH NO MAN
THAN THIS, THAT A MAN LAY
DOWN HIS LIFE FOR HIS
FRIENDS. ST JOHN 15.13
On the south side it commemorates:
LIEUT P G TURNER NOTTS YEOMANRY SHERWOOD RANGERS RAC
KILLED IN ACTION EL ALEMAIN 24TH OCTOBER 1942
The parish magazine of March 1916 notes John Harold Noble, killed in action on 28th January at the age of 20 – the first parishioner to die in the First World War. Private Noble served in the Lincolnshire Regiment, and is commemorated at the Cité Bonjean Military Cemetery at Armentiéres, in Nord in France. Private Taylor and Lance Corporal Parkin died on 10th January and 13th September 1917, aged 20 and 22 respectively. Private Taylor served in the Sherwood Foresters and is commemorated in the Cambrin Military Cemetery at Pas-de-Calais, France. Lance Corporal Parkin served in the West Yorkshire Regiment (Prince of Wales' Own) and is commemorated at the Thiepval Memorial in the Somme. Lance Corporal Willie Briggs, who is not included on the memorial, was killed in action on 1st December 1917, aged 21. He was in the Grenadier Guards and is commemorated at the Cambrai Memorial in Nord. Unfortunately no information appears to have survived regarding Private Allen or Private Lambert.
Then, according to the parish magazine, 'just at the eleventh hour, when victory was in sight, sad news came to our little village...Frank Hill has died a prisoner of war in Germany, and Frank Templeman and Peter Alexander have been killed in action'. Sapper Frank Hill of the Royal Engineers had died on 2nd July 1918 at the age of 31, and is commemorated at Valenciennes (St Roch) Communal Cemetery in Nord. He was the son of William and Annie Hill of Normanton, and the husband of Nellie Hill of Sibthorpe Hill, Tuxford. Private Templeman, of the Sherwood Foresters, had been killed on 10th October 1918 and Sergeant Alexander, of Hazelhurst on Brott's Road, had been killed on 25th October 1918. They were 28 and 27 years old respectively. Private Templeman is commemorated at the Vis-en-Artois Memorial in Pas-de-Calais, and Sergeant Alexander, of the Lincolnshire Regiment, is remembered in the St. Souplet British Cemetery in Nord.
The actual memorial appears to have been not without controversy. The parish magazine of June 1919 states that 'all over England Memorials are being erected...There is some difference of opinion as to what form the Memorial should take, but as it seems to be the wish of most of the Parishioners that it should be a Cross placed in a conspicuous position in the old Churchyard, and as this has been decided upon, it is hoped that we shall now all pull together and be able to erect a suitable record of Noble lives given for King and Country, worthy of the object that we have in view...'. This suggests that there had been some differences over the form of the memorial, and eventually an obelisk was erected in 1921, at a cost of £120, according to Kelly's Directory of 1928.