Normanton-on-Trent
St Matthew
Glass
There are four stained glass windows in the church.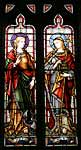 Window in
the north
chancel wall
The earliest is a window by Mayer & Co. of Munich and London. Established in Munich in 1847, the firm opened a stained glass studio in the early 1860s, and a branch in London in 1865. The window is in the north wall of the chancel, and depicts Faith and Hope, in memory of the Revd Robert Gamson's (un-named) wife and elder daughter, who died in 1860 and 1855 respectively.

Window in
the north
aisle wall
Another window, located in the westernmost window in the north aisle, commemorates Mary, the wife of George Esam, who died in 1866. The inscription reads:
IN LOVING REMEMBRANCE OF
MARY THE WIFE OF GEORGE ESAM
WHO ENTERED INTO REST FEBR 6 1866
Both windows date from the late 1880s or early 1890s.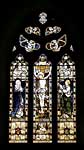 Window in
the east
chancel wall
The east window in the chancel also contains stained glass, as a memorial to the Revd William Doncaster, who was the vicar between 1804 and 1847. The inscription at the bottom of the window reads:
To the glory of God and in memory of the
Rev: William Doncaster, (for 44 yrs Vicar of
this Parish, died 29th Dec: 1847; and of
Susannah Ellison Doncaster, his widow, died
15th Feb: 1853, also of John Palmer Stocker, died
9th Nov: 1891; and Ann, his wife, died 12th Feb: 1885

Easternmost
window in the
north aisle
Lastly, stained glass was put in the easternmost window in the north aisle in 1947, in memory of Philip George Turner, son of then vicar, who was killed at El Alemein in 1942. The glass depicts Saint Philip and Saint George. The glass is accompanied by a bronze memorial plaque, dating from 1954.