Nottingham
St James
Glass
Few records were found relating to the windows and glass of St. James. The Southwell Diocesan Magazine (1899) noted that two new stained glass lights had recently been installed in the chancel walls in memory of Benjamin North.

The interior of the
church in 1908
A photograph dated 1908, showing the interior of the church from west to east, includes the east window with five tall low arched lights, depicting figures, each with a pair of small lights over. The three central pairs are surmounted by three smaller windows filling in the top of the arch. The tracery appears to be in the Perpendicular style.
The same photograph captures large single windows in the nave and extending into the gallery, one on each side of the chancel arch. They appear to have plain glass with four tall vertical lights under five small lights filing the arch, with tracery as above.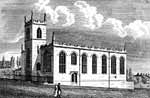 The church in 1815
Blackner's illustration of the church c1815 shows the exterior lights on the north and south walls likewise extend into the gallery, but the arches are flatter and they have only three long lower panels each divided into two, presumably at the level of the gallery. Three smaller lights over filled the arch. A half size window of the same design was located over the south door.