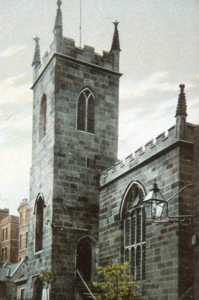 Nottingham
St James
Nottingham Archdeaconry
Nottingham South Deanery
Introduction
St James was opened in 1809 to serve an expanding part of Nottingham where previously greenfield land being developed for housing and commercial use. There was also a recognised need for more places of worship which were diverse and met changing needs.

It was the first Anglican church built in Nottingham since the Dissolution of the Monasteries in 1536.

Controversy promoted by the existing Anglican churches delayed its foundation, but it was eventually built and opened, funded by public subscription and initially maintained by the same means. It was not allocated a parish or a licence to perform marriages until many years later.

Continuing change caused St James to be united first with the Parish of St. John the Baptist, 1912-1933, and then with St. Peter's, 1933-1934; the later union was short-lived with St. James closing in 1935.

Architecturally it was not highly rated. One critic, the incumbent at the time, described it as 'a plain if not to say ugly church'. He was referring to the exterior he was more complimentary about the interior, which had just undergone a refurbishment.

The church was demolished in 1935.

Particular thanks to Doug Fletcher for research on this entry and for the images.