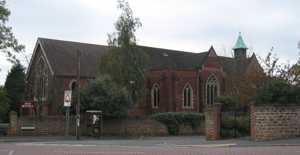 Nottingham (Mapperley)
St Jude
Nottingham Archdeaconry
Nottingham South Deanery
Introduction
On Woodborough Road, Mapperley, this large, high and rambling red brick chapel of ease to St Ann's, in Early English style with stone dressings, was built over a long period. It began in 1877 with the nave part of a cruciform plan by Evans and Jolley, later abandoned.
It consists of a nave, chancel, aisles, organ chamber, chapel, vestries, and bellcote with cap. Every other bay of the aisles is gabled. W A Heazell completed the chancel in 1892 and the organ chamber in 1897. The aisles were built in 1916, the chapel in 1922, vestries in1925 and the final bay of the nave in 1929, all by A E Heazell and Son.
Most of the glass is plain, set in stone curvilinear windows, two- and three-lights alternately in the nave, five-lights at the east end. A new west window was dedicated in February 1954. Three stained windows were severely vandalized in September 2002; one of them showed hands in prayer in pink glass, installed in 2000.
The interior is plain, but spacious, with dark oak benches and Minton tiles on the floor, as well as red carpet.
Particular thanks to Abbey Rees-Hales for research on this entry