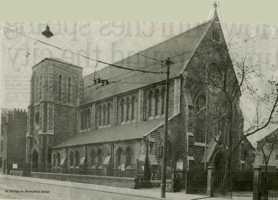 Nottingham
St Philip (Pennyfoot Street)
Nottingham Archdeaconry
Nottingham South Deanery
Introduction
The parish of St Philip, Pennyfoot Street, was created in 1879 out of the parish of St Luke, Carlton Road. The parish was created to relieve pressure of numbers on St Luke's, and St Philip's opened the same year. The church was built to serve a rapidly growing area as Nottingham spread eastwards into the adjoining parish of Sneinton, which was itself brought within the town boundaries in 1877. The housing in this area was poor quality, and many of the streets were short lived. St Luke's was closed in 1923, and the two parishes were united as St Philip's with St Luke's. Three subsequent waves of slum clearance and redevelopment reduced even the joint population to a fraction of its original size. In 1960, when the then incumbent died, the Bishop of Southwell announced that St Philip's was to be closed. Protests were mounted but the final service took place in July 1963, and the church was demolished in 1964.
During its eighty-four year life, St Philip's hosted a thriving school built on the same site and provided social activities for the parishioners. Sports teams were active well into the 1950s and the parish rooms accommodated clubs and meetings for different age groups and interests.
St Philip's was faced in local Bulwell stone and contained stained glass windows by Kempe and Company in the north aisle. The apsidal chancel had five stained glass windows by a local maker, Gascoyne. These five widows formed part of the War Memorial for the First World War. Internally, St Philip's had a nave with four bay arcades separating the north and south aisles.
Particular thanks to Doug Fletcher for research on this entry