Nuthall St Patrick
Archaeology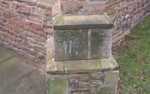 One of the foliated
cross fragments
Two fragments of a foliated cross can be seen built into the exterior of the church walls. One is set into the buttress at the north-west end of the building and the other low down on the east wall of the chancel. It is probable that these two stones are fragments of a grave slab. As the Cokefield family emblem was such a cross it is a reasonable hypothesis that the two reused stones could be from one of their family memorials. (The last Cokefield died c1450.)
Early masonry, similar to the stone work used in the lower stage of the tower c.1200, was found in the east chancel wall. Holden wrote:
During the alterations effected in 1884 the east wall of the chancel was stripped of stucco and a small portion of it appeared to be of the same date as the lower part of the tower. It was found necessary to remove as it was in an insecure state.
In 1884 blocks of alabaster, taken from worn alabaster gravestones, were used in the tiling of the chancel floor. During repairs made in 1991 to the nave floor, several chunks of alabaster were recovered. They were presumably the remnants of the "several old alabaster floorstones, some in a mutilated state and some better preserved" mentioned by Stretton in 1819.
A void in the floor at the front of the north aisle, exposed at this same time (1991), revealed, at the depth of about six feet, a roof of barrelled-shaped brickwork. This presumably is the roof of a vault. In this same area there is a flagstone with C.N.1837 [Charles Nixon] carved on it. The Nixon wall monuments in the chancel, record that members of the Nixon family were interred close by. One inscription mentions an actual vault. It is however possible that the monuments have been moved from the chapel area, where the vault and the C.N. flagstone are, to the south chancel wall following the 1884 changes, or there may well be a second vault beneath the south side of the chancel.
The external north wall between the two vestries, now concealed by a bunker, shows masonry which could have formed an entrance to the Nixon vault. The mysterious south chancel door, mentioned in the 1884 faculty, could also have been a vault entrance.
According to Mee:
A 14th century piscina, in the south wall of the nave, now behind the pulpit, which had been plastered over, was revealed during restoration work in 1884.
Greatly deformed leg bones were found by the north door during excavation for the new choir vestry in 1973.