Nuthall St Patrick
Glass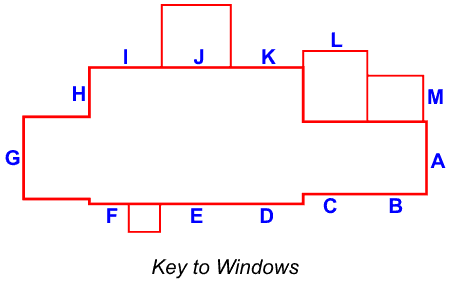 Spooner reasonably speculates that pre-1884 there would have been corresponding windows on the north chancel wall, but Stretton makes no mention of such on his visit in 1819 whilst recording all other windows, nor does the wording of the 1884 faculty.
The three south nave windows (D, E and F on the plan) are all double lancet windows with decorated tracery and square reveals.

Also of interest is a small, low-lying, oblong shaped window, now blocked, which can be seen on the exterior south wall of the chancel, near the east end of the nave, below Window C. Often erroneously termed a leper's squint, more possibly a sacring-bell window.
Mee, c1900, described the windows of the church "[the] window tracery is what is known as Flowing Decorated, approaching flamboyant."