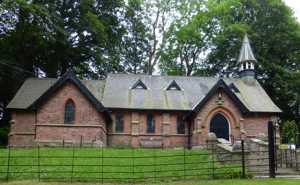 Pleasley Vale
St Chad
Newark Archdeaconry
Mansfield Deanery
Introduction
In 1876, Joseph Paget built a chapel dedicated to St Chad, the first Bishop of Lichfield (Mercia). Joseph's father and stepmother had drowned in 1873 leaving him the bulk of their estate that subsequently made him the senior partner in the William Hollins Company in Pleasley Vale.
Joseph Paget had become very wealthy, and decided that his household and the increasing population of mill workers in Pleasley Vale would benefit by having their own church built in the hamlet. He built it in a lofty position, overlooking the Vale, on the Stuffynwood Estate, Derbyshire side of the river so that visitors could see it directly opposite as they approached on the Northfield road (now a private road running alongside the modern St Chad's opposite the bridge).
It was built of timber, painted white, modest in size but elegant and of handsome design built by Cox & Sons of London. The church was lit by gaslight, connected from the adjoining lodge. It is recorded that Mr Linney of Mansfield donated 'a powerful harmonium of excellent tone'. The formal opening on 10 November 1876 was conducted by the Bishop of Lichfield in the presence of a large congregation of local clergy, including the newly appointed vicar of Shirebook, the Rev Dr F W. Quilter, who was to conduct an evening and morning service every Sunday.
However, within a few years of it opening there was a disagreement with the Diocese of Lichfield over the style of services conducted in the church and Paget took the radical decision to dismantle the church and rebuild it a short distance across the border in Nottinghamshire which placed it in the Diocese of Lincoln and the parish of Mansfield Woodhouse.
Joseph Paget decided to make it more 'churchly' than before by building around the timbers with brick and stone, adding a bell tower and replacing the harmonium with a pipe organ built by Lloyd & Co of Nottingham. The interior woodwork remained the same as before, a highly polished contrast of pitchpine and mahogany.
The first service at the relocated St Chad's was held on 14 October 1881. The new vicar of the church, the Rev W. H. Kirby, had living accommodation provided by Joseph Paget. After Paget's death in 1896, his will provided a trust to ensure a continued income for the vicar and provision for the upkeep of the church.
Particular thanks to Alan Wahlers and Andy Nicholson for research on this entry
and to Geoff Buxton and Dr Chris Brooke for the photographs.