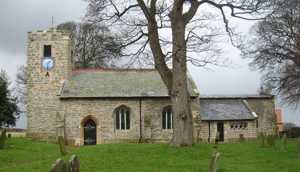 Ragnall
St Leonard
Newark Archdeaconry
Bassetlaw and Bawtry Deanery
Introduction
Domesday describes Ragnall as a 'Berewick' (outlying estate) to Dunham-on-Trent, and there is no mention of a church or priest. In 1378 Ragnall and Dunham are referred to as 'in the demesne of the Crown' and so were exempt from tax. Little early history of the church appears to be recorded, but in 1406 it is described as a chaplaincy and more specifically in 1528 Ragnall is described as a stipendary chaplaincy to Southwell Minster. The parish continued to be a peculiar of Southwell and is recorded in the Southwell Peculiar Court Registers for the period 1530 to 1839.
In 1743 the sacrament was administered only four times a year, and the communicants averaged 40 in number. In 1851 the church was dedicated to St Oswald and had a general attendance of 60.
The building comprises a nave and integral south aisle (there is no arcade division), a chancel with south aisle, and a west tower. The chancel, vestry, and the south aisle were rebuilt in 1864, possibly by the architect Ewan Christian, at which time the rest of the building was thoroughly restored. The nave has some 14th and 15th century windows and the west tower is constructed of two phases, the uppermost having plain, rectangular belfry windows that appear to be of the 17th century with a single trefoil window lower on the south side, probably re-used from another part of the building.
There were formerly two 17th century monuments, one to William Mellish and one to William Reason. The octagonal font was of the 19th century. A large clock dial sits in a square projection between the belfry and the small trefoil window on the south side of the tower.
The well-known architect Nicholas Hawksmoor was born either in Ragnall or East Drayton.
An ink sketch of the church in 1773 by Hieronymous Grimm shows the church before the 19th century restoration. The south windows of the nave were evidently of about 1300 and the chancel south-east window was of the 14th century. The south nave door looks to be 18th century. There were also high-level windows at the west end of the south wall, almost certainly intended to provide light to an interior western gallery.
In 1993 the church was formally declared redundant and is now privately owned. There is no public access, although the churchyard remains open.
Particular thanks to Tim Southall and Andy Nicholson for research on this entry
and to Geoff Buxton, Dr Chris Brooke, and Brown & Co. for the photographs.