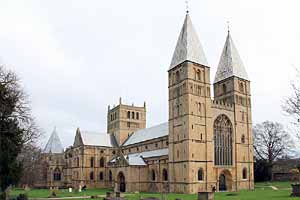 Southwell
Minster and Cathedral Church of St Mary the Virgin
Newark Archdeaconry
Newark and Southwell Deanery
Introduction
The Cathedral and Parish Church of the Blessed Virgin Mary has a long and distinguished history. The present building ('The Norman Minster') was begun in the early part of the twelfth century, on the site of a large domestic Roman building, with additional building in the thirteenth and fourteenth centuries. It was built after the Norman Conquest to replace a previous tenth century church ('The Saxon Minster'). In all probability there were earlier worship and pilgrimage sites at the same location from at least the eighth century.
The present building is of cruciform construction, with the nave, crossing and transepts presenting a purity and consistency of the Norman Romanesque style which few other churches in England can match. In the original building, the choir was also of matching Romanesque style, but it was relatively short, extending a mere three bays to the east of the crossing. In the year 1234, a decision was taken to lengthen the choir and this was achieved by demolishing the Norman work and rebuilding to make the choir twice its original length. By this time the Gothic style had arrived in England and so the choir is a very fine example of Early English Gothic.
As a part of the thirteenth century project, the two matching Romanesque apses which were on the east side of the two transepts were demolished and then shortly after the new choir was completed, a chapel in the Early English Gothic style was built out from the north transept, utilising the arch which had framed the northern apse.
After a brief pause, building work resumed with the construction of a chapter house, accessed via a passageway from the north choir aisle. This chapter house is in the Decorated Gothic style and features stone carvings of considerable distinction. Finally, the stone screen, or Pulpitum was built to the east of the crossing, representing the pinnacle of Decorated Gothic art.
After these five building projects, the church was complete. There has been no permanent modification since the construction of the pulpitum, although a chapel ('The Booth Chapel' was attached to the western end of the south nave aisle in about 1465: it was demolished in 1784 and no trace remains. As an approximate guide, working dates for the completion of the five sections which are extant are thought to be:
| | |
| --- | --- |
| Nave, crossing and transepts | 1160 |
| Choir | 1250 |
| North transept chapel | 1270 |
| Chapter House | 1300 |
| Pulpitum | 1340 |
Particular thanks to David Turner for research on this entry and to
Geoff Buxton, Dr Chris Brooke and Andy Nicholson for the photographs