Selston
St Helen
Bells
No.

Date

Inscription

Weight

Diameter

Note

Founder

1

1986

JAMES RAWSON
1862-1949

4 - 0 - 0

26.5 ins

F

Eijsbouts, Holland

2

1983

IN MEMORY OF VERA, WIFE OF ED. WOOD. D.1968. EIJSBOUTS ASTENSIS ME FECIT 1983

4 – 0 - 14

26.5ins

E

Eijsbouts, Holland

3

1905

M
BARWELL BIR-
CHILDREN'S BELL
THE CHILDREN DID WELL
TO PURCHASE THIS BELL
1905

4cwt

29ins

D

James Barwell, Birmingham

4

1905

ST HELEN'S BIBLE UNION BELL
LET MY MUSIC BE HEARD
IN PRAISE OF THE WORD
1905

5.5cwt

32ins

C

James Barwell,
Birmingham

5

c1530

gabrielis

6cwt

33.5ins

Bb

Seliok (generic)

6

1905

CHARLES HARRISON VICAR
CHURCH COUNCIL BELL
FOR THIS CHURCH RESTORED
GIVE THANKS TO THE LORD
1905

8cwt

36ins

A

James Barwell,
Birmingham

7

1622

I sweetly toling men do call to taste on meats that feeds the soule 1622

9.5cwt

38.5ins

G

George I Oldfield, Nottingham

8

1704

GOD SAVE HIS CHURCH WILLIAM WOOD FRANCIS CHEETHAM WARDENS 1704

12 – 2 - 0

40.75ins

F sharp

William Noone, Nottingham
Bell 5 and 7 have text in old font.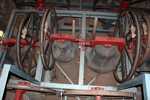 Hung low sided cast iron frame by Frederick Pembleton in 1982 when the back 6 were re-hung. It has steel RSJs for the top and bottom cills and re-uses the Barwell cast iron braces. Extra braces have been fabricated in steel. Prior to 1983, the bells were hung in a Barwell composite frame with wooden top and bottom cills and cast iron braces. The fittings were typical Barwell products and the old bells had lost their canons.
The work by Messrs Barwell and Company, Birmingham, was carried out during the restoration of 1904-5.
There is a faculty of 1958 for new bells. It appears that the bells were restored and reset at this time, but no new bells were installed.
The fifth bell is by the Seliok family of founders and appears to be a late example dating from 1520-1530, it was formerly the treble of the old three prior to 1905.
Bell 7 bears the two badges of George I Oldfield and Paul Hutton of the Nottingham Foundry.
The two trebles are bells 1 and 2. The tenor bell is bell 8.
The Felstead Peals database lists 54 valid peals for the Tower, dating between 1909 and 2007.