Selston
St Helen
War Memorial
In the side chapel to the south of the chancel are war memorials to the fallen of two World Wars.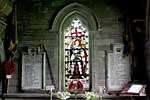 First World War memorial
window and marble panels
On the east wall is a memorial window to those who gave their lives in the First World War, and either side of this is a marble panel. The central sections are white marble with slight grey marking, and the surrounds are a darker, more heavily veined marble. Each panel is 125cm (49 ins) tall at the tallest point, and 72cm (28 ins) wide.

The left hand panel has a cross at the top and this inscription:

IN GRATEFUL MEMORY
OF THE MEN OF SELSTON
WHO GAVE THEIR LIVES FOR KING
& COUNTRY IN THE GREAT WAR
A.D. 1914-1918. THEIR NAMES FOLLOW
HERE & LIVE FOR EVER IN OUR
MEMORY.
SIDNEY ADAMS
ARCHIBALD ASKIN
ALBERT BACON
WILLIAM BALL
THOMAS BANTON
CHARLES BUTCHER
GEORGE CLARK
GEORGE WILLIAM DAY
GEORGE DOBBS
HARRY DOVE
WILLIAM HEATH DUNN
ALBERT HENRY GELL
WILLIAM GILDER
JAMES WILLIAM GREGORY
REGINALD LEE HAND
JOSEPH HANKIN
ARTHUR HENRY HARPHAM
THOMAS EDWARD HAWKINS
HARRY HEALD
BEN HOPEWELL
The panel on the right has a crown at the top and these names:

BERNARD HUDSON
HARRY JOSEPH JEFFS
WILLIAM LEONARD JONES
SAMUEL KIRK
CLARENCE KIRKLAND
SAMUEL EDWARD LEE
CHRISTOPHER LEWIS
FRANCIS HAROLD MARSHALL
WILLIAM MAXEY
ARTHUR MILLS
JOHN LIONEL NICHOLS
HARRY PALMER
LAWRENCE PARKER
JAMES PLATTS
JOHN WILLIAM PRIESTLEY
WILLIAM PROTHERO
FRANK REED
JAMES SHEAVYN
JOSEPH HENRY SHERISTON
JOHN WILLIAM SHIPMAN
JOHN TOM STOCKS
NORMAN ROBERT STOPPARD
CYRIL STORER
THOMAS WILLIAM TAGG
WILLIAM WILSON TAYLOR
HORACE TIMMS
JOSEPH HAROLD TRUEMAN
ERNEST VICTOR WHEATLEY
On the south wall of the chapel, between two windows, is a rectangular stone slab measuring 30 ins (77cm) high, 24 ins (61cm) wide and 2¼ ins (5.5cm) thick, which is inscribed in memory of those men who fell in the Second World War.

IN GRATEFUL MEMORY OF
THE MEN OF SELSTON
WHO GAVE THEIR LIVES FOR THEIR COUNTRY
IN THE GREAT WAR
1939 – 45
| | | |
| --- | --- | --- |
| IVOR ALEXANDER. | | G. GREEN. |
| ALFRED BAILEY. | | G. R. HARDY. |
| FRANK BUTLER. | | ALBERT HOUGHTON. |
| THOMAS BUTLER. | | SYDNEY MALTBY. |
| ROY BROWN. | | SYDNEY PARKER. |
| KENNETH CLOWES | | ALBERT RICHARDS |
| ROYCE COLEMAN. | | GEORGE SKEVINGTON. |
| JOHN COOPER. | | NATHAN SMITHURST. |
| NORMAN CRUTCHLEY. | | REGINALD WALTERS. |
| WILFRED FLINT. | | GEORGE WEBSTER. |
| ERIC GENT. | | |