Shelford St Peter and St Paul
Features and Fittings
Stone angel with shield dating from Elizabethan times, formerly on porch with sundial beneath, now at end of roof beam at north west of nave.
On sill of window at the east end of the south aisle (Stanhope Chapel):
An old quern.
A wooden collecting box.

An ancient piece of a Saxon cross, dated c750 by British Museum.
A baked clay Saxon loom weight.
Part of a stone carving showing a head in a Viking helmet.
Date stone, deposited for safe keeping in 1981, inscribed:
PRIMITIVE
METHODIST
CHAPEL
1840
Ceremonial helmet (with crest of a tower azure, a demi-lion issuant from the battlements, or, crowned gules, holding between the paws a grenade) and gauntlets, perhaps used at a Stanhope funeral 16th or 17th century.
Two shields
These are placed on brackets on each side of the chancel arch:
Northern side:
Quarterly 1 and 4 or, 2 and 3 gules, a star argent. Crest: a boar azure. (Godfrey interprets Stretton's drawing of this shield as follows: Quarterly sable and gules, in the second and third quarters a mullet [argent]. Crest, a boar azure.
Southern side:
Azure, a lion rampant or. (Godfrey interprets Stretton's drawing of this shield as follows: Azure, semée of fleurs-de-lis, a lion rampant, or, Beaumont, possibly the arms of William, Viscount Beaumont, Lord Bardolf, and Lord Beaumont, lord of the manors of Stoke Bardolf and Shelford and patron of Shelford Priory, d1507.)
Other Items
Cabinet containing the Book of Remembrance with small brass plate inscribed:
IN LOVING MEMORY OF
BETSY & WILLIAM JOHNSON
Holy table or altar of carved wood, possibly from 1857
2 communion rails - one on either side of altar
1 oak sanctuary chair
4 choir pews (2 on each side and a rail on each side of chancel)
2 chairs in chancel, one bearing the following inscription:
ERNEST T.H. FISHER
Faithful churchwarden
& treasurer
Died 26 March 1997
Aged 79
Oak credence table

Font of stone with wooden lid, dated 1662
Old oak Litany desk
Screen, formerly dividing vestry from tower
Early pedestal alms box, oak, in Stanhope chapel
Modern offertory box set in wall near entrance door
Old chest with three locks, perhaps sixteenth century, in Stanhope chapel
Chest for altar frontals in Stanhope chapel
Oak chest
Oak table bearing the following inscription:
In Grateful Memory of
CANON FRANK WORWOOD
who ministered at Shelford 1989 to 2002
A friend to all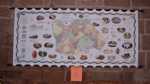 Large parish map designed to celebrate the Millennium in 2000