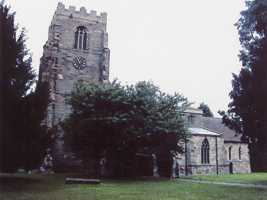 Shelford
St Peter and St Paul
Nottingham Archdeaconry
East Bingham Deanery
Introduction
The fragment of a Saxon cross discovered in Victorian times suggests that Christian practices were established in Shelford by 750-800 AD. The Domesday Survey of 1086 records both a church and a priest. The church was appropriated to Shelford Priory in the early fourteenth century but after the dissolution of the priory the living became a perpetual curacy under the patronage of the Stanhopes from 1537 (subsequently the Earls of Chesterfield), and the Earls of Carnarvon from 1871 until 1925.
Today the church consists of a nave with clerestory, north and south aisles, south porch, chancel and western tower. Much of the fabric has been dated to between the thirteenth and fifteenth centuries, but significant alterations and additions were made in the sixteenth and nineteenth centuries. There was some damage to the tower during the civil war siege of 1645 and during this period there are gaps in the parish registers (which otherwise survive from 1563). The crypt was created or, more likely, renovated in 1677 and closed 200 years later. About 1877-8 the chancel was restored and a side chapel created to house Stanhope monuments. Despite repairs and minor changes from 1893 onwards, Shelford church remains much as it was in late Victorian times.
From the 1940s the parish was run mainly in conjunction with Radcliffe-on-Trent. In 1985 Shelford and Radcliffe were joined by Holme Pierrepont to form the Malkin Group of churches. According to the 2001 census St Peter and St Paul now serves a population of about 590 in Shelford and Newton.
Particular thanks to Pamela Priestland for research on this entry