Shelford
St Peter and St Paul
War Memorial
Roll of Honour
This is on the north wall of chancel
A rectangular wooden wall panel:
Roll of Honour
The Bells were Restored
To the Glory of God
and in Grateful Memory of those of the PARISH of
SHELFORD who gave their lives for their Country in
The GREAT WAR 1914-1919
FALLEN
A Burton
G Fisher
W Kirkham
S Parkes
H Richards
J Riley
J Rudkin
E Thorpe
J T Perrin
GRANT THEM LORD ETERNAL REST
SERVED
L Atkin
J R Carver
H Dickinson
T Fisher
G Foster
J Green
T Harrison
W Harrison
M Lacey
P Lee
G Loach
W Loach
H Mee
H Morley
W Morse
L Muggleton
J Osborn
A Perrin
A Richards
N Richards
S Rockley
J Sessions
H Snowden
F Stevenson
E Stokes
W Thornton
A Turney
J Wood
Ready EITHER TO LIVE OR DIE NOBLY
1939-1945
Donald Albert Chilvers
died of wounds
Greater love hath no man than this.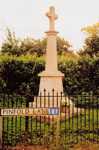 The Village War Memorial
Village War Memorial
This is in the main street on land given by the Earl of Carnarvon, formerly used as the village pinfold. It consists of a simple stone cross 12 feet 6 inches high, with inscriptions on the lower levels. It cost £170 and work in carting materials and erecting fencing was carried out voluntarily by parishioners. The unveiling was performed by Major Godfrey MC of Carlton.
The names of twelve men from Shelford, Newton and Saxondale who lost their lives in the First World War are recorded on the main face:
EDWARD THORPE
HERBERT RICHARDS
JOHN RUDKIN
WILLIAM KIRKHAM
ALBERT BURTON
GEORGE FISHER
JAMES RILEY
THOMAS CHEETHAM
JAMES PRITCHETT
HARRY SNOWDON
SAMUEL PARKES
TOM PERRIN
Beneath is a quotation from St John's gospel:
GREATER LOVE HATH NO MAN THAN THIS, THAT
A MAN LAY DOWN HIS LIFE FOR HIS FRIENDS
On the right hand face is inscribed:
ERECTED BY THE
PARISHIONERS OF SHELFORD
IN GRATEFUL REMEMBRANCE
AND HONOUR TO THE MEN OF
THIS PARISH WHO FELL IN
THE GREAT WAR 1914-1919
The name of DONALD CHILVERS, the only man from the parish killed in the Second World War, has now been added to the War Memorial.