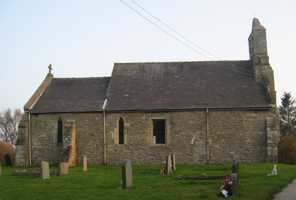 Stokeham
St Peter
Newark Archdeaconry
Bassetlaw and Bawtry Deanery
Introduction
St Peter's church is a simple, single-celled building, comprising a chancel and nave of stone with a western turret with two openings but containing a single bell.
The masonry and two lancet windows generally give a 13th century date though the Norman font may be the oldest part of the church. A long rough hewn chest is probably 13th century too.
A south aisle was pulled down in the 17th or 18th century. By the mid-19th century the church was dilapidated. Then the chancel was restored and a partition put up between chancel and nave, leaving the nave unused.
The church was fully restored by 1928.
Particular thanks to Rowan Gillam-Hull for research on this entry.