Westwood
St Mary
War Memorial
Village Memorial
Jacksdale has a striking War Memorial in the centre of the village. It carries a roll of honour, naming each man from the village who served in each of the World Wars, and it is topped by a stone carving of a World War One Sherwood Forester.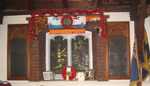 First World War Memorial
First World War
Inside the church, a window was installed just after the First World War in memory of the men who gave their lives. The window is surmounted by a more modern artwork representing all three services.
On each side is a metal plaque 60 inches by 26 inches (153cm x 67cm) in a wooden frame. The one on the left reads:
THIS WINDOW IS ERECTED
TO THE GLORY OF GOD
AND IN MEMORY OF THE
MEN OF WESTWOOD WARD
WHO GAVE THEIR LIVES
IN THE GREAT WAR
1914 – 1918
| | | |
| --- | --- | --- |
| ATKIN LT J.M. | | GIBBONS Sgt W. |
| ATKIN A. | | GREEN E. |
| ARCHER R. | | GREGORY S. |
| BACON A. | | GRANEY A. |
| BARKER J. | | HEALD H. |
| BURTON T. | | HILL Sgt G.W. |
| CARTLEDGE H. | | HOWARD H.J. |
| CLARK F.H. | | JEPSON C.J. |
| CRESSWELL E. | | JONES R. |
| DOLMAN G. | | KNIGHT E. |
| FOSTER J. | | LOWE Sgt W. |
The one on the right reads:
GREATER LOVE
HATH NO MAN THAN
THIS THAT A MAN
LAY DOWN HIS LIFE
FOR HIS FRIENDS
| | | |
| --- | --- | --- |
| LEMON L. | | RILEY J.W. |
| MARSHALL F.H. | | SHANNON J.H. |
| MOORE J.L. | | SPARHAM W. |
| MORLEY J. | | SKINNER J.W.H. |
| OLDHAM E.E. | | SMITH Sgt P. |
| PLATTS J. | | TAGG T.W. |
| PROTHERO W. | | TANSEY D. |
| PIRDUE T. | | TOWLE L.A. |
| RAWSON Sgt W. | | UDALL G.H. |
| RAYBOULD J. | | WHITWORTH A. |
| RILEY E. | | WHITEHEAD E. |
| | | WILMOTT G. |
Second World War
Memorial plaque
The memorial book
in its case
Second World War
After the Second World War, another memorial plaque was installed. It was donated by the British Legion and unveiled on 16 November 1952 by the Duke of Portland. It is a dark coloured metal plaque 22 inches by 16 inches (56cm x 41cm), mounted on the wall opposite the main entrance to the church. Below it is a glass-topped case holding a book produced by a local history group, containing their research into the lives and families of every soldier named on the village War memorial. The plaque reads:
IN MEMORY OF THE MEN OF
WESTWOOD WARD WHO GAVE
THEIR LIVES IN THE WORLD WAR
1939 – 1945
| | | |
| --- | --- | --- |
| ANTHONY C.A. | | MOREHEN W. |
| BARLOW A. | | NEWBOLD C.A. |
| BURNHAM B. | | O'BRIEN J.P. |
| DERBYSHIRE A. | | PRINGLE A.B. |
| GORDON V.E. | | SHOOTER K.W. |
| GREGORY A. | | TIMMINS R.E. |
| HARPHAM H. | | WARD K.A. |
| LEA W. | | WHILDE F. |
| MANDERS L. | | WINFIELD J.W. |
| MARSHALL R. | | WRIGHT W. |
THEY SHALL NOT GROW OLD AS WE THAT ARE
LEFT GROW OLD
AGE SHALL NOT WEARY THEM NOR THE
YEARS CONDEMN
AT THE GOING DOWN OF THE SUN AND
IN THE MORNING


WE WILL REMEMBER THEM