Averham St Michael and All Angels
Archaeology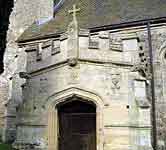 The entrance porch
with three shields

Nave north door
now blocked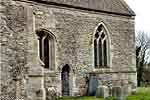 South chancel, showing
herringbone mosonry
and later medieval
extension
This tower was originally a two storey west porch with entry from the upper storey to a gallery at the west end of the nave. Evidence of this doorway can be seen inside the tower and the support for the gallery is evident on the wall where the tower abuts against the nave inside the church. There is evidence of some extension to the tower probably in the eleventh or twelfth century, possibly as a result of the new Norman rite, promulgated by Archbishop Lanfranc, based on papal reform. This work however is the only indication of the Saxon or Norman origin of this church.
The church is a stone building in Early English and Decorated Geometric Gothic style. It consists of a cancel, nave, vestry, south porch and western embattled tower with pinnacles.
There is herringbone patterned stonework on the tower walls, north and south sides of the nave and south side of the chancel.
A feature of the church is an elaborate stone porch built in the sixteenth century. It is decorated by three shields, the one on the left has the initials TS (for Thomas Sutton) and two wolf heads and the one on the right has two barrels, a shield and the inscription 'Miles'.
Please note: a major revision of this page is due shortly, please return again for updates.