Averham St Michael and All Angels
Features and Fittings
Chancel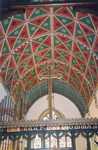 Looking up at
the chancel roof
Roof
Barrel roof, painted in red, green, black, white and gold, installed in 1858.
Choir stalls
Back panelling , reader's desk and vicar's desk appear to be contemporary with the screen.
Reading desks
Two choir reading desks appear to be older. Each has an attached brass seven light lamp.
Screen
The screen divides chancel from the nave. It carries the quotation "If you love me fear my Commandments". Thought to have been either installed or renovated in the C. Hodgson Fowler restoration of 1907.
Other Items

Piscina
Two modern kneeling rails.
Wooden lectern.
Wooden seat and prie-dieu.
Low wooden altar rail with gap in the middle.
Modern wooden altar, with wooden chest underneath.
Piscina with fluted drainage hole.
Tiled black and red floor.
Nave
Pictures
Two pictures flank the screen. The one on the right is a Virgin and Child, possibly a copy of part of a Murillo painting in Dresden museum.
Roof
Wooden beamed roof, stained brown; end beams supported by stone corbels (fourteen in total – motifs including foliage, heads, green man and angels). Roof installed in 1858.
Carved heads
and capital
Green man
corbel
Woman corbel
Angel corbel
Simple corbel
Hatchments
Two Hatchments, flanking the arch into the tower on the west wall.
The one to the south of the arch has a black field with ermine, on a chief indented azure three griffins' heads erased or (Chaplin) impaling argent, a canton sable (Sutton). Crest a griffin's head erased argent, ducally gorged or. Motto "As God Will". Hatchment of Rev Robert Chaplin, died 1837, married Anne Georgiana Sutton.
The one to the north has a white/black field, Chaplin impaling Sutton as in above. Crest a cherub's head. Motto "As God Will". Hatchment of Mrs Anne Georgiana Chaplin, daughter of Sir Richard Sutton, 1st bart., wife of Rev R Chaplin, died before 1837.
Font
Octagonal, stone of plain design, with carved wooden cover.
Seating
Nineteen fixed pews, dating from 1907 restoration.
One free-standing non-matching pew.
Other Items
Wooden pulpit.
Stone floor.
Under Tower
Two boards listing the Ten Commandments.
One Royal Coat of Arms.
Vestry
Jacobean communion table.