Averham St Michael and All Angels
Monuments and Memorials
Chancel
North Wall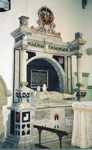 A monument to Sir William Sutton, who died in 1611, aged 52, and his wife Susanna, to whom he was married for twenty-seven years. This is a painted alabaster Renaissance Revival style tomb with a moulded rectangular base with corner pilasters with panels of Arms, recessed central panel with two scrolled cartouches with Arms, and above, two inscribed tablets. Sir William wears plate armour and the shield shows Sutton arms quartered with those of Pierrepont, Lexington, Bingham and Musters. Above, a pair of Ionic type columns on strapwork bases carry a projecting entablature with strapwork frieze, Arms and dentillated cornice flanking a pair of reclining figures.
This monument was vandalised in 1984, when the hands were chopped off and it was sprayed with red paint.
Inscriptions in Latin and English, the English one as follows:
SIR WILLIAM SUTTON'S CORPS HERE TOMBED SLEEPES
WHOSE HAPPY SOUL IN BETTER MANSIONS KEEPES
THRICE NINE YEARS LIVED HE WITH HIS LADY FAIR
A LOVELY, NOBLE, AND LIKE VIRTUOUS PAYER.
THEIR GENEROUS OFFSPRING (PARENTS' JOY OF HEART)
EIGHT OF EACH SEX: OF EACH AN EQUAL PART
USHERED TO HEAVEN THEIR FATHER, AND THE OTHER
REMAIN'D BEHIND HIM TO ATTEND THEIR MOTHER.
North wall, up high
TO
THE MEMORY OF
ROBERT NASSAU SUTTON
ESQ'RE
YOUNGEST SON OF
SIR RICHARD SUTTON, BAR
OF NORWOOD PARK
DIED APRIL 7th 1833
IN THE 57th YEARE OF HIS AGE
AND
MARY GEORGIANA, HIS WIFE
DAUGHTER OF
JOHN MANNERS SUTTON ESQ'RE
OF KELHAM
DIED NOVEMBER 9th 1846
IN THE 67th YEARE OF HER AGE
South wall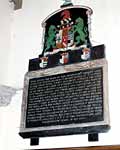 A monument to Sir William's son Robert, first Lord of Lexington, who died abroad. His heart is said to be in the lead receptacle in the large urn at the top.
The inscription is as follows:
HERE LYETH THE BODY OF THE RIGHT HONOBLE ROBERT LORD
LEXINGTON DESCENDED FROM YE ANCIENT FAMILY OF YE SVTTONS,
HE HAD THREE WIVES, YE FIRST ELIZABETH SISTER TO THE RIGHT
HONOBLE IOHN NOW EARLE OF RVTLAND. YE SECOND ANNE WIDDOW
OF SIR THOMAS BROWNE BARONET AND DAVGHTER OF SIR
GVY PALMES KNIGHT. THE THIRD MARY ELDEST DAVGHTER
OF SIR ANTONY ST LEGER A VERY ANCIENT FAMILY. THIS LADY NOT
SVRVIVING HER LORD 12 MONETHS LYES HERE BY HIM AS DOE HIS
TWO FORMER. BY HER HE HAD SIX CHILDREN VIZT: ROBERT, BRIDGET,
CHARLES, ST LEGER (A SONNE) MARY, AND ANNE, WHO WAS BORNE A
FEW DAYES AFTER HER FATHERS DEATH WHEREOF TWO ARE NOW
LIVING VIZT: ROBERT, THE NOW LORD LEXINGTON & BRIDGETT
BY HIS TWO FORMER WIVES HE HAD NOE ISSVE. HE WAS A
LOYALL SVBJECT, AND LOVER OF HIS COVNTRY A GOOD HVSBAND
FATHER, FREIND, LANDLORD, MASTER & NEIGHBOVRE. HE DIED
OCTOBER 12TH ANNO DNI. 1668 IN THE THREESCORE AND
FOVRTEENTH YEARE OF HIS AGE.
Nave
North wall, west end
TO THE GLORY OF GOD
AND IN
LOVING MEMORY OF
JOSEPH WALKER
FOR 51 YEARS RECTOR
OF THIS PARISH
DIED JAN 19th 1907
AGED 79 YEARS
THIS NAVE WAS RESEATED
AND PANELLED WITH OAK
BY MEMBERS OF HIS FAMILY
North wall, east end
A fourteenth century depressed ogee headed tomb recess with the Sutton family rebus and blank shield spandrels, containing a slab with moulded edges, foliate cross and a Norman French inscription.
South wall, east end

An alabaster effigy lies in a niche and is unfortunately broken in two with the parts not matching along the fracture line indicting that a part probably containing the belt is missing. The effigy is as man in civilian clothes, long hair and is bearded and hold a heart in his hand, a rarity after 1300. He wears a long tunic with closely-fitted buttoned sleeves. At his feet is the crest of the Sutton family which is a wolf's head. The shield on each side is blank and was probably painted but the recess holds another which has the same as those on the adjacent tomb of William de Sutton (died 1611). An incomplete inscription records:
. . . eque pal . . . de Sutton cuius corpus . . . viii kalendas octobris anno domini MCCCmo lxix
This can be roughly translated as: '. . . of Sutton whose body . . the 8th day before the Kalends of October 1369' [i.e. 24th September].
The effigy has been identified as that of John de Sutton who died in 1369. At this date it is the first effigy in alabaster to depict a civilian. John was married to Joana Musters however his son Roland was disinherited from the Musters lands and it is considered he was the issue of another wife.
South wall, west end
There is a early fourteenth century tomb slab showing an effigy of a knight with long curling hair, wearing a short sleeved hawberk, over which is a long surcoat, he also has a sword and dagger.
Vestry
West wall
IN
A VAULT BENEATH THIS CHAPEL
LIE THE REMAINS OF
| | | |
| --- | --- | --- |
| ANN SUTTON | | DIED 1787 |
| JOHN SUTTON | | DIED 1801 AGE 32 |
| SIR RICHARD SUTTON | | DIED 1802 AGE 69 |
| REV R. SUTTON | | DIED 1820 AGE 49 |
| MARGARET SUTTON | | DIED 1824 AGE 86 |
| R. NASSAU SUTTON | | DIED 1833 AGE 56 |
| MARY GEORGINA SUTTON | | DIED 1846 AGE 66 |
| HENRY JOHN SUTTON | | DIED 1847 AGE 32 |
| ROBERT CHAPLIN | | DIED 1824 AGE 27 |
| ISABELLA FRANCES CHAPLIN | | DIED 1824 AGE 50 |
| ANN GEORGINA CHAPLIN | | DIED 1826 AGE 52 |
North wall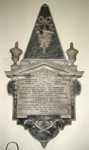 Only partly legible
WITHIN THE VAULT ARE INTERRED THE REMAINS
OF
SIR RICHARD SUTTON, BAR
OF NORWOOD PARK IN THE COUNTY
WHO DEPARTED THIS LIFE ON Xth JUNE MDCCCII
IN THE LXIXth YEAR OF HIS AGE
.
.
???
.
.
He first married SUSANNA daughter
Of
CLAUDE CRESPIGNY, ESQ of CAMBERWELL
Secondly ANN eldest daughter of W.P.WILLIAMS, ESQ
Of CADHAY in the county of DEVON
Who left him three sons and three daughters
His eldest son JOHN died on the 15th Sepr 1801
Having married SOPHIA, daughter of C. CHAPLIN, ESQ
Of TATHWELL in the county of LINCOLN
By whom he left an infant son
In grateful memory of the best of husbands
This tablet is inscribed by his afflicted widow
MARGARET youngest daughter
Of JOHN PORTER ESQ of WANDSWORTH
In the county of SURRY
Below the above

A plaque with a Latin inscription reading:
Intus sepultum jacet corpus
Johannes Smith Rectoris de
Averham qui cum in isto
satis saciendo munere Trigesi
mum nonum complevisset
annum ex hac vita discessit dic
January vicesimo nono Ætat
suæ septuagesimo secundo An

o

D

ni
The Latin is obscure, but it is clearly to John Smith, Rector of Averham, who died in the 72nd year of his age.
North wall
NEAR THIS PLACE
LIE THE REMAINS OF
THE REV'D RICH'D SUTTON DD
PREBENDARY
OF THE METROPOLITAN CHURCH OF CANTERBURY
RECTOR OF WHITWELL IN THE CON. OF DERBY
AND FIFTY-ONE YEARS RECTOR OF THIS PARISH
DURING WHICH TIME
HIS UNIFORM HUMANITY AND BENEVOLENCE
GAINED HIM THE ESTEEM AND AFFECTION
OF HIS NEIGHBOURS AND DEPENDANTS
WHILST HIS CHEERFUL AND SOCIAL DISPOSTION
AND GENEROUS HOSPITALITY
JOINED TO ELEGANCE OF MANNERS AND A TASTE
FOR THE POLITE ARTS
ENDEARED HIM TO NUMEROUS FRIENDS
HE MET THE LINGERING APPROACHES OF HIS DISSOLUTION
WITH EXEMPLARY FORTITUDE AND RESIGNATION
AND DEPARTED THIS LIFE THE 14th DAY OF NOV'R 1785
AGED 76