Averham
St Michael and All Angels
Glass
Click the numbers in the key plan for details of the windows.
1Two light, patterned Victorian glass.
2Three lights. Holy Family, boy Jesus in the carpenter's shop, adult Jesus healing the blind. In memory of Robert (1830-1910) and Ellen (1839-1913) Lee, possibly the parents of Robert Lee who helped Rev J C Walker build his theatre in c1913.
3Three lights, Faith, Hope and Charity. Dedicated to Geraldine May Walker, died 31 May 1905 and E H Houghton, died 30 June 1902.
4Three lights. Ruth, St Mary the Virgin and Diligence. In memory of E S V Walker, died 4 June 1888.
9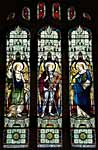 Three lights with upper Perpendicular tracery. Victorian glass depicting three archangels – Raphael, Michael and Gabriel. Dedicated to Richard Hall Weightman died 22 November 1882, age 79.
11Three lights with upper Perpendicular tracery. Early nineteenth century glass with four inserted Italian paintings and inserts of other decorative motifs.