Babworth All Saints
Archaeology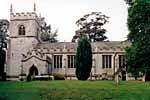 The church from the south
This church is built in an essentially Perpendicular style. It has a chancel, nave, north aisle, and a low west tower, which are all embattled. The windows in both north and south walls are all square-headed.
North arcade
looking east
Grotesque head at the
west end of the
north arcade
Tower and south porch

Corbel heads of the
south porch roof
It has late Perpendicular (16th Century) priests' doors and a round headed piscina (a round headed shallow basin for washing the communion vessels) in the chancel.
A three-bay arcade with octagonal columns, moulded capitals and chamfered arches separates the nave and the north aisle. There are single carved grotesque heads at both ends of the arcade.
The embattled south porch is similar to that at West Retford and has a stone roof and four stone arches ending in corbel heads that include a human face and grotesque creature.
When the church was restored between 1858 and 1860 by J.L. Pearson new tracery and roofs were installed.
It was further restored 1878; the architect was again J.L. Pearson of London. The north wall was demolished and rebuilt about 6 ft north of its former position thus widening the north aisle. Two old galleries were also removed.
The most recent restorations were carried out in 1951, when the roof of the nave was overhauled, the porch roof was recovered and the tower roof entirely renewed.
Technical Summary
Timbers and roofs
| | | | |
| --- | --- | --- | --- |
| | NAVE | CHANCEL | TOWER |
| Main | Pitched roof with curved braces, ridge and side purlins, posts to wall plates and wall brackets; carved bosses to junctions of ridge and side purlins; all 1858-60 with restoration in 1951. | Continuous roof with nave and identical. | Flat roof with central single tie, chamfered, with principal rafters and boarding over; all 1951. |
| S.Aisle | n/a | Vestry, 1858-60. | |
| N.Aisle | Identical design as for the nave; all 1858-60 with restoration in 1951. | As N.Aisle | |
| Other principal | | | |
| Other timbers | South porch is stone vaulted, concave section transverse arches supported on moulded stone corbel, C15/16th | | |
Bellframe
Cast iron frame: Elphick Z form, Pickford Group 8.3.A. 1892, by Taylors of Loughborough, 1959.
Not scheduled for preservation Grade 4.
Walls
| | | | |
| --- | --- | --- | --- |
| | NAVE | CHANCEL | TOWER |
| Plaster covering & date | Open stonework on south wall, otherwise plastered and painted | Plastered and painted | Open stonework. |
| Potential for wall paintings | No evidence but painting possible. | Evidence in photographs of painting at east end, no visible signs now but painting possible anywhere | Unlikely. |
Excavations and potential for survival of below-ground archaeology
No known archaeological excavations have been undertaken.
The fabric dates principally from the C15th and C16th with a major restoration in 1858-60; and further restorations in 1878 and the 1950s. The majority of the core late medieval fabric of nave, south porch, tower, and chancel, remains intact. The roofs in the body of the church are all C19th replacements but the south porch retains its medieval vaulting.
The churchyard is roughly rectangular in shape with the church offset to the north. There are burials evident on all sides except for the north. Three extension churchyards, commencing c.1900, exist across the lane on the west side of the church.
The overall potential for the survival of below-ground archaeology in the churchyard is considered to be HIGH comprising medieval construction evidence, burials, and landscaping, and later restorations. Below the present interior floors of the church it is considered to be HIGH-VERY HIGH comprising medieval-C19th stratigraphy with probable post-medieval burials. The archaeology of the upstanding fabric is largely late medieval and its archaeological potential is HIGH-VERY HIGH.
Exterior: Burial numbers are expected to be average.
Interior: Stratigraphy under the entire building is likely to be medieval with later layers and restoration evidence. In the body of the church the stratigraphy is likely to be punctuated by medieval and post-medieval burials.