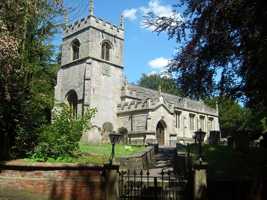 Babworth
All Saints
Newark Archdeaconry
Bassetlaw and Bawtry Deanery
Introduction
The first building of a church here is recorded in 1290, but the present church dates from the 15th and 16th centuries.
Built in stone (ashlar) in the Perpendicular style the church consists of a chancel with vestry, nave, north aisle, south porch and a low west tower, all embattled except the west wall of the north aisle and east chancel wall. The embattled south porch is similar to that at West Retford and has a stone roof and four stone arches ending in corbel heads that include a human face and grotesque creature. The church has two 16th century priests' doorways with wooden doors.
The tower with pinnacles contains a clock by Sharpe of Retford, three bells, together with a further three newly cast bells added in 1959. A round-headed piscina is located in the chancel. A monument of note is a decorated urn to the Rev John Simpson (d1784) by Thomas Waterworth the elder of Doncaster. The windows are square-headed and some contain stained glass, including the east window by Wailes (1855).
The church was restored in 1858-60 with new tracery and roofs, followed by a further restoration in 1878 both by J. L. Pearson. The chancel and sanctuary contain furniture by Robert Thompson who was part of the 1920s Arts and Crafts movement. The items of furniture bear his famous carved mouse trademark.
Richard Clyfton was curate of All Saints from 1586 until 1604. His preaching in the new manner had a strong influence on the foundation of the Pilgrim movement. William Brewster from Scrooby and William Bradford from Austerfield, both friends of Clyfton and regular attendees of his services, were passengers on the Mayflower. The footpath to the church from their homes in Scrooby and Austerfield is known as the Pilgrims Way.
Particular thanks to Hillery Harrison, Andy Nicholson and Dr Tony Power for research on this entry
and to Geoff Buxton and Dr Chris Brooke for the photographs.