Babworth All Saints
Features and Fittings
Chancel
Reredos
| | |
| --- | --- |
| The reredos of 1878 | Modern reredos |
A 'fine reredos of alabaster, thickly inlaid with insertions of coloured marbles' was built as part of the 1878 restoration.
At some point in the 20th century the east wall was plastered and a plain oak panelled reredos installed.
Piscina

Piscina
In the south wall of the chancel is a piscina with chamfered surround.
Oak stalls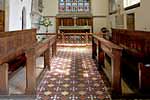 The choir stalls
The choir stalls are made of oak and were installed in 1878.
Nave
Font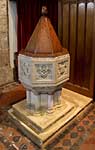 The font dates from 1878 and was given to the church in memory of Launcelot E B Bridgeman Simpson (who died in infancy in 1854) by his mother, the wife of the rector.
A brass plate on the base of the font reads:
+ IN LOVING MEMORY OF LAUNCELOT E B BRIDGEMAN SIMPSON BORN JUNE 15 -
DIED OCT 10 1854. THIS FONT IS GIVEN TO BABWORTH CHURCH BY HIS MOTHER 1878
The font is by George Walker Milburn (1844-1941), a carver and sculptor based in York, who worked on various fixtures and fittings at the church over the period 1878-79, including the pulpit, lectern, desk, bench ends, poppy heads and an oak book case.
The font cover is made from the same wood as the Mayflower II, a replica of the original Mayflower, which sailed from Plymouth to New Plymouth in 1957.
Pulpit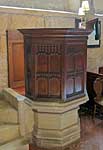 Pulpit
The wooden pulpit has blind tracery and rests on a stone base. The inscription around the base reads:
IN MEMORY OF RICHARD HODGKINSON OF MORTON GRANGE IN THIS PARISH WHO DIED FEB 20

TH

1853, AGED 73 YRS, ALSO MARY, HIS WIFE, WHO DIED OCT 3

RD

, 1838, AGED 61 YRS.
It was installed during the restoration of 1878.
North Aisle
Mayflower model

Next to the organ in the north aisle is a scale model of the Mayflower.
It was made by a prisoner from Ranby prison using approximately 14,000 matchsticks.
Vestry
In the vestry are two benefaction boards, a wooden donations box and a metal box (made by C. Taylor of Retford) used for storing the parish registers:
| | | | |
| --- | --- | --- | --- |
| Benefactions board | Benefactions board | Donations box | Parish registers box |