Darlton St Giles
Churchyard
The church from
the south-west
Grave marker to
Thomas Burton (1752)
The church is located immediately to the north of the A57 road towards the east end of the village of Darlton.
In shape the churchyard is approximately rectangular, although on the southern boundary it is curved outwards and the road follows this curve. In size it is roughly 0.25 ha in extent. The boundaries are, to the south and west a low, rock-faced ashlar wall, to the east a wooden fence, and to the north fencing and shrubs. There are mature trees throughout.
There are visible burials on the south and west sides and there may be unmarked burials to the north. Modern burials are to the east.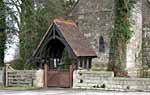 The lychgate
The church is very close to the west boundary and there is a lychgate dating from 1863. The lychgate and boundary walls are listed buildings in their own right, separate from the church. The lychgate has two coped ashlar walls each surmounted by open decorative wooden traceried and cusped panels, these support the gabled roof with decorative bargeboards and pendants. The west side has a small carved double wooden gate.
There are three chest tombs to the east of the chancel which are listed buildings in their own right. They date from 1818, 1845, and 1842 and all are decorated with stylised crosses.